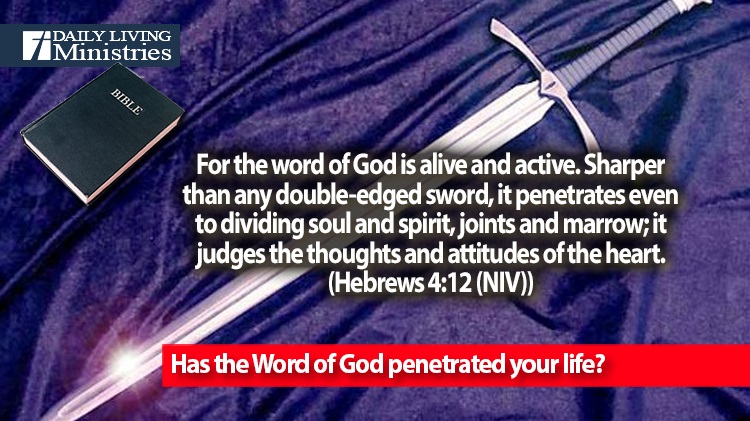 Be Still . . .
Devotionals for Daily Living ©
For the word of God is alive and active. Sharper than any double-edged sword, it penetrates even to dividing soul and spirit, joints and marrow; it judges the thoughts and attitudes of the heart.
(Hebrews 4:12 (NIV))
What are some things that you consider to be sharp?
Perhaps you think of a sword. You might think of a broken piece of glass. If you can find your way around a kitchen, the knives may come to mind. If you have ever had a paper cut, an edge of a sheet of paper can bring on much agony. You may think of sewing needles, or perhaps even medical syringes, but have you ever thought about words being sharp?
Think about words for a moment.
The old saying that sticks and stones may break my bones but words will never hurt me is not entirely true. Words, if you let them, can penetrate deeper than almost anything. This is true because words can penetrate the soul. A wrong word can scar someone for life while the right word will change a life for the better. The Word of God does just that. The Word of God can and will change you if you will simply let it.
Many things that we consider to be sharp only penetrate our lives by accident. You will not deliberately cut yourself with a sword, a piece of glass, or a knife. A paper cut is never deliberate. Sticking yourself with a sewing needle is always by accident, and even medical syringes are introduced because of an accident or medical condition that must be addresses. I realize that there are exceptions to each of these, but for the most part, sharp objects are not willingly introduced into a person's life.
If that is the case, then why do we introduce things into our lives through words that can cause just as much damage as a physical sharp object? What we watch, what we listen to, what we read and what we mindlessly fill our minds with penetrates deeply into our lives. If words can penetrate so deeply, then we must focus on words that will tear down our sinful nature and rebuild within us a righteous nature. We must make a decision to deliberately focus on the Word of God and allow it to penetrate our soul and spirit, joint and marrow, and judge our thoughts and attitudes of the heart.
It is a choice. It is our decision. What penetrates our lives is up to us.
Has the Word of God penetrated your life?
Copyright 1998 – 2022 Dennis J. Smock
Daily Living Ministries, Inc.
http://www.dailylivingministries.org
Support Daily Living Ministries
Subscribe to daily email delivery
Visit us on facebook