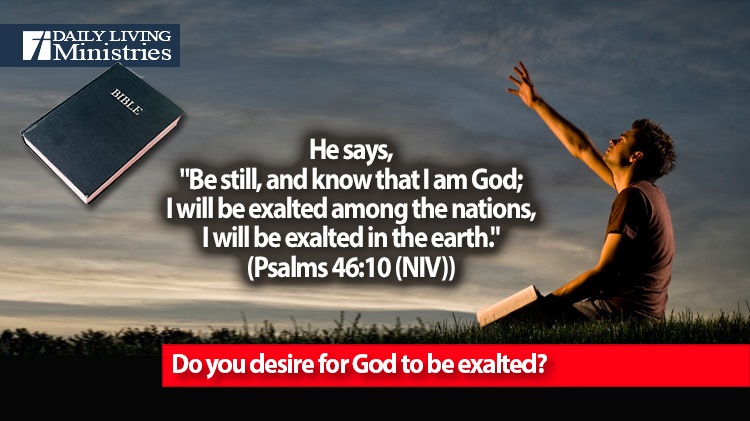 Be Still . . .
Devotionals for Daily Living ©
He says, "Be still, and know that I am God; I will be exalted among the nations, I will be exalted in the earth."
(Psalms 46:10 (NIV))
I love the instruction given in "Be still, and know that I am God." I usually stop there and dive into the importance of doing what these words tell us to do, after all, we must learn to slow down and be still in His presence so that we can focus on building the relationship with Him as our God and Father. If you keep reading, there is more. There is so much more! I honestly believe that it applies to the events that are happening in the world today as we live out our lives.
Too many people believe that God's single purpose was to save us from sin as if He were our servant. He does have a plan to save us, to give us salvation, but there is a major piece that we tend to overlook. God's plan is to give everyone time to accept His gift of salvation before He defeats the enemy and sin once and for all. Ever since the fall from grace in the Garden of Eden, He has moved humanity toward the fulfillment of His plan. This plan will restore perfection and the relationship with humanity that He intended from creation.
God has a timeline!
As things progress, we must turn to the Lord and seek His understanding for where we are and what we need to do. Everything that is unfolding will exalt God among the nations once it culminates in His return. We, as members of the Body of Christ, must know God's Word and point people to Him, for there is only one way to the Father.
For God so loved the world that he gave his one and only Son, that whoever believes in him shall not perish but have eternal life.
(John 3:16 (NIV))
We are to be still in His presence so that we may understand His heart and know His desires and His plan. He sent His Son, Jesus, to live and die as part of that plan. He raised Him from the dead as part of that plan. Jesus is going to return as part of that plan. When He does, He will glorify the Father and defeat the enemy. We must be ready to give an account of the events that we see. We are to be watchers on the wall that point people to Jesus.
Therefore God has highly exalted him and bestowed on him the name that is above every name, so that at the name of Jesus every knee should bow, in heaven and on earth and under the earth, and every tongue confess that Jesus Christ is Lord, to the glory of God the Father.
(Philippians 2:9-11 (ESV))
We must share the good news. We must make sure that everyone has an opportunity to exalt God.
Do you desire for God to be exalted?
Copyright 1998 – 2021 Dennis J. Smock
Daily Living Ministries, Inc.
http://www.dailylivingministries.org
Support Daily Living Ministries
Subscribe to daily email delivery
Visit us on facebook