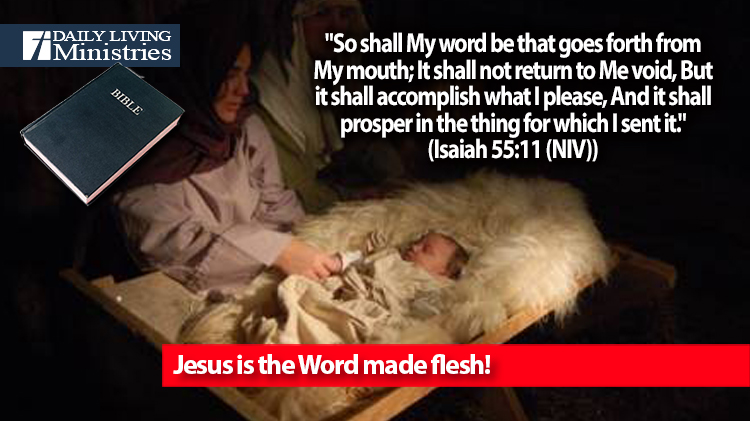 Be Still . . .
Devotionals for Daily Living ©
"So shall My word be that goes forth from My mouth; It shall not return to Me void, But it shall accomplish what I please, And it shall prosper in the thing for which I sent it."
(Isaiah 55:11 (NIV))
I have read this passage numerous times, but tonight I was given insight that made me stop as I fully realized the implications of these words! It became more than clear to me when I was directed to this passage about Jesus. In fact, what made me take notice of this passage from Isaiah was that it does not say So shall My words. It is singular just as it is in identifying Jesus.
The Word became flesh and made his dwelling among us. We have seen his glory, the glory of the one and only Son, who came from the Father, full of grace and truth.
(John 1:14 (NIV))
Jesus was sent forth to accomplish God's will and He did not return void. He accomplished what pleased the Father. Salvation is the thing for which Jesus was sent, and He prospered in fulfilling the Father's desires by providing salvation to a sinful, fallen world! All that we have to do is accept what the Father has provided.
I love how God's Word comes to life! The more that you read and study, the more that you see Jesus even in passages where you may not have seen Him before. As your desire to understand increases, He gives you more understanding. He unfolds His truth to those who earnestly seek Him. I don't know how many times that I have read a passage and then the very next time that I read it, I am given new insight. I am given new understanding.
Do you hunger and thirst for the truth of His Word? Do you hunger and thirst for Jesus? Do you bury yourself in His Word in order to know the very heart of God?
God showed us His heart when He sent Jesus. We are told that where your treasure is there your heart will be also. God treasures His creation. He treasures us so much that He sent His Son, whom He loves. Jesus was and is the Word made flesh. Jesus fulfilled everything written in Isaiah.
God's Word is still going forth. Jesus is still accomplishing what the Father pleases. Jesus is still increasing the numbers who have accepted this gift of salvation.
Jesus answered, "I am the way and the truth and the life. No one comes to the Father except through me.
(John 14:6 (NIV))
Jesus is the Word made flesh!
Copyright 1998 – 2022 Dennis J. Smock
Daily Living Ministries, Inc.
https://www.dailylivingministries.org
Support Daily Living Ministries
Subscribe to daily email delivery
Visit us on facebook