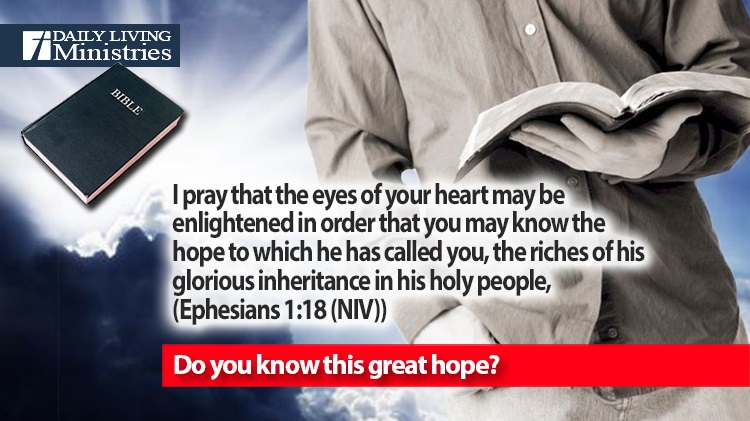 Be Still . . .
Devotionals for Daily Living ©
I pray that the eyes of your heart may be enlightened in order that you may know the hope to which he has called you, the riches of his glorious inheritance in his holy people,
(Ephesians 1:18 (NIV))
What do you see when you see the state of the world?
Unless you cling to the hope that we have in Jesus, what most people see in this world is dark and foreboding. To be honest with you, it is so easy to get wrapped up in the things of this world, especially when prices are escalating while the availability of resources seems to be plummeting. In many parts of the world, governments are expecting large numbers of deaths this winter due to shortages. We see the wars that are still raging and we see false peace being pushed. We see unstable governments all around the world, and we see evil being called good and good being called evil.
In the physical, when I see the state of the world, I am saddened. I am angry, and I am at a loss for what to do!
Thankfully, I know beyond any doubt that this world is not my home. I am a citizen of heaven, and I know that when things look bad here in this world, we are to look up for our redemption is near! As long as I keep my eyes on Jesus, I can rest confidently in the hope that I have in the promises of my Lord and my Savior. I don't know what I will personally face in this world, but I do know one thing.
I consider that our present sufferings are not worth comparing with the glory that will be revealed in us.
(Romans 8:18 (NIV))
I long to reveal the glory of the Lord in all that I do. Some days I do okay. Other days I fail miserably. Fortunately, since I am not capable of being perfect, I do not have to be perfect. All that I have to do is place my faith in Jesus as my personal Lord and Savior. There are times that I will fail miserably, but when that happens, I can seek His face, repent and pray for guidance. I am on a journey. Every step that I take is not going to be perfect, but as long as I keep my eyes focused on Jesus, my destination is clear. He is my hope. He is all the riches and glory that I need. He is my inheritance!
Do you know this great hope?
Copyright 1998 – 2022 Dennis J. Smock
Daily Living Ministries, Inc.
https://www.dailylivingministries.org
Support Daily Living Ministries
Subscribe to daily email delivery
Visit us on facebook