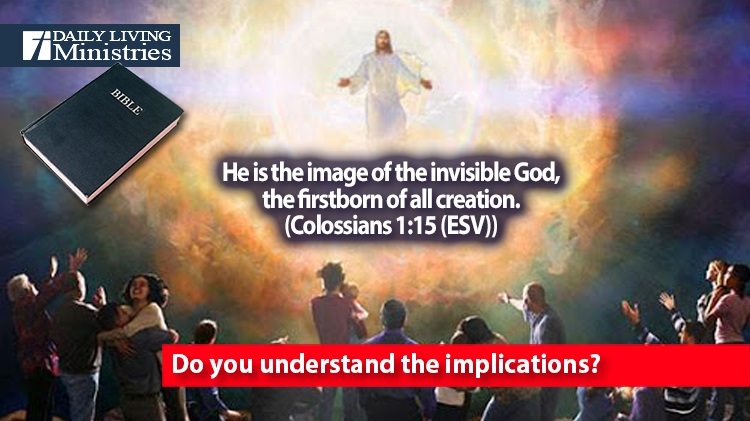 Be Still . . .
Devotionals for Daily Living ©
He is the image of the invisible God, the firstborn of all creation.
(Colossians 1:15 (ESV))
What is your image of Jesus?
Is He still the baby in the manger?
Is He still a performer of miracles?
Is He still the one who hung on the cross?
Is He still the one who arose from the dead?
Is He still the one who ascended into heaven?
Is He still the one who sits at the right hand of God the Father?
Is He the firstborn of all creation?
Do you understand the full concept of the firstborn son in many cultures, especially those cultures in the lands where the events of the Bible have unfolded?
In our world today, we have the mindset that anyone can achieve anything no matter where they come from or their birth order in their family. We like to think that we rise and fall in this world based on our own merits, including how we are viewed within our own family. In order to fully understand the authority that Jesus has, we must learn to put our current mindset on the back burner. We must learn to understand the title, position, role and authority that a firstborn son in ancient cultures truly had.
The firstborn was to receive all authority over his father's land and possessions. If the father were a king, the firstborn was to succeed the father and inherit all power and authority within that kingdom. He was the one and only rightful heir to the throne. If you consider that Jesus is the firstborn Son of God, by that title alone He has inherited all power and authority over all that God has created. He is superior to any created being. He is higher than any man or woman. He is higher than the angels who were created to worship and serve. He is higher than the one who was cast out of heaven.
Why do so many of us, as part of sinful humanity, simply try to ignore Jesus completely? If we don't ignore Jesus, then why do we ignore His firstborn status over all creation? Why do we ignore the authority of the King of kings and Lord of lords when His authority has been established from the beginning? Why do we try to usurp that authority over our lives and claim it for ourselves?
Are you ready for His return?
Do you understand the implications?
Copyright 1998 – 2021 Dennis J. Smock
Daily Living Ministries, Inc.
http://www.dailylivingministries.org
Support Daily Living Ministries
Subscribe to daily email delivery
Visit us on facebook