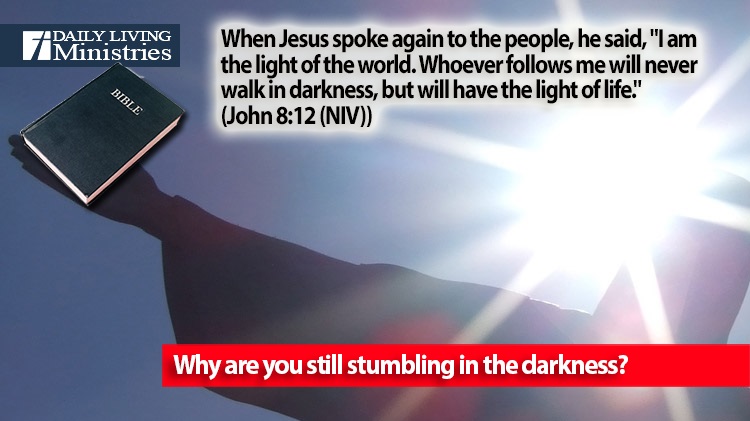 Be Still . . .
Devotionals for Daily Living ©
When Jesus spoke again to the people, he said, "I am the light of the world. Whoever follows me will never walk in darkness, but will have the light of life."
(John 8:12 (NIV))
Now is not the time to be living your life walking in the darkness!
What happens when you walk in darkness in the physical world?
You trip, stumble, fall and get injured!
What happens when you walk in spiritual darkness?
We know that spiritual darkness is sin. We now that all have sinned and fall short of the glory of God. We know that the wages of sin is death. Do I need to go any further with this, especially with all that we see going on in the world?
Each of us has a choice to make. We can continue to walk in our sin, in our darkness, or we can repent and follow Jesus who is the bringer of light. Don't wait until it is too late! The darkness makes you stumble and fall, and you never know just what will happen to you in the darkness. Too many people never make it out. They die in their sin. They never accepted the free offer of mercy and grace that would have lifted them out of darkness into His glorious light. If you haven't accepted this offer of amazing grace, I have but one question for you.
Why are you still stumbling in the darkness?
Copyright 1998 – 2023 Dennis J. Smock
Daily Living Ministries, Inc.
https://www.dailylivingministries.org
Support Daily Living Ministries
Subscribe to daily email delivery
Visit us on facebook