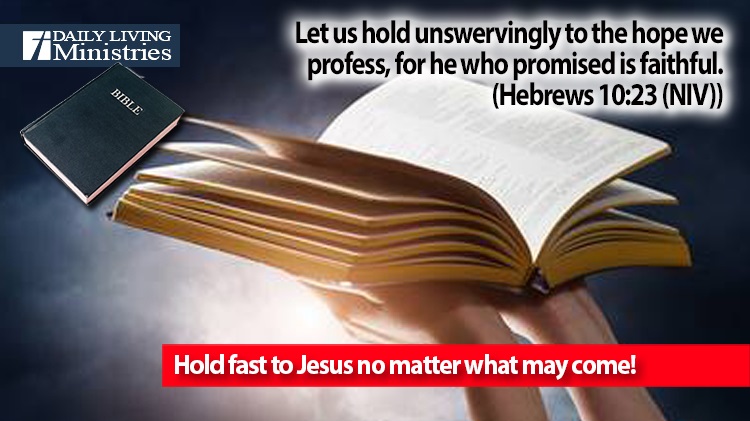 Be Still . . .
Devotionals for Daily Living ©
Let us hold unswervingly to the hope we profess, for he who promised is faithful.
(Hebrews 10:23 (NIV))
Whether you are following the events of the world in relationship to Bible prophecy, or you are simply uncertain about the coming year, there has never been a better time to keep your eyes on Jesus!
Answer honestly.
Do you have a feeling from within your spirit that tells you that something is not as it should be in the world?
It seems as if things have been increasing in frequency and in magnitude over the last several years. Some people have even implied that they are also converging and the date of the convergence is rapidly approaching.
Needless to say that if you have professed a faith in Jesus as your personal Lord and Savior, you recognize that human nature is sinful. You have also recognized that you, by the fact that you are human, are sinful and in need of a Savior.
for all have sinned and fall short of the glory of God,
(Romans 3:23 (NIV))
For the wages of sin is death, but the gift of God is eternal life in Christ Jesus our Lord.
(Romans 6:23 (NIV))
No matter whether prophecy is unfolding rapidly or slowly, Jesus is our only hope. No matter if we have abundance or are in need, Jesus is our only hope. No matter if the world sends us joy or pain, Jesus is our only hope. When we place our faith in Jesus, it doesn't matter what may come in this world, for our hope is not of this world. Our hope is in the Lord God who created this world and in His Son Jesus who came into this world to give us this amazing hope that we now have!
Do you have this hope?
If not – Repent!
Run as fast as you can into the open arms of Jesus!
Hold fast to Jesus no matter what may come!
Copyright 1998 – 2023 Dennis J. Smock
Daily Living Ministries, Inc.
https://www.dailylivingministries.org
Support Daily Living Ministries
Subscribe to daily email delivery
Visit us on facebook