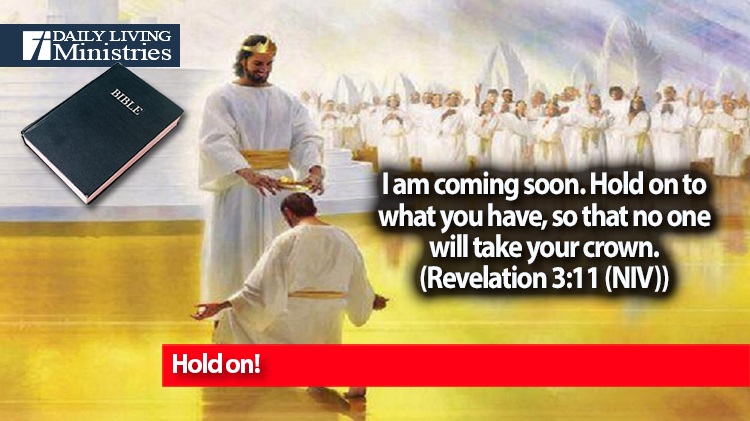 Be Still . . .
Devotionals for Daily Living ©
I am coming soon. Hold on to what you have, so that no one will take your crown.
(Revelation 3:11 (NIV))
What do you think of this passage?
If you are like most people, even members of the church, you see this as still a far off fulfillment. It is easy to see why this may be the mindset since these words were recorded almost two thousand years ago to the church in Philadelphia. These words were written as a promise to one of the two churches that Jesus did not rebuke. Both churches, Smyrna and Philadelphia, were told that they had been faithful to what Jesus had commanded and to stay faithful as things progressed. The church at Philadelphia was given still another promise.
Since you have kept my command to endure patiently, I will also keep you from the hour of trial that is going to come on the whole world to test the inhabitants of the earth.
(Revelation 3:10 (NIV))
It was after this promise was recorded that John recorded the promise that Jesus was coming soon. Jesus is going to keep those who are faithful in keeping His command from seeing the hour of trial that is coming. There has been conjecture that the aspect of Jesus coming soon has been interrupted by the church age, and that once the church age ends, He will come for those who are His true church.
It will be quick.
Listen, I tell you a mystery: We will not all sleep, but we will all be changed— in a flash, in the twinkling of an eye, at the last trumpet. For the trumpet will sound, the dead will be raised imperishable, and we will be changed.
(1 Corinthians 15:51-52 (NIV))
What if the definition that Jesus used for the word "soon" means this very minute?
Are you looking for His return or are you telling yourself that He isn't coming back because He hasn't come back yet?
Stand firm in your faith. Hold on to the promises that He has given us.
Now faith is confidence in what we hope for and assurance about what we do not see.
(Hebrews 11:1 (NIV))
Are you confident that He is coming soon?
Hold on!
Copyright 1998 – 2021 Dennis J. Smock
Daily Living Ministries, Inc.
http://www.dailylivingministries.org
Support Daily Living Ministries
Subscribe to daily email delivery
Visit us on facebook