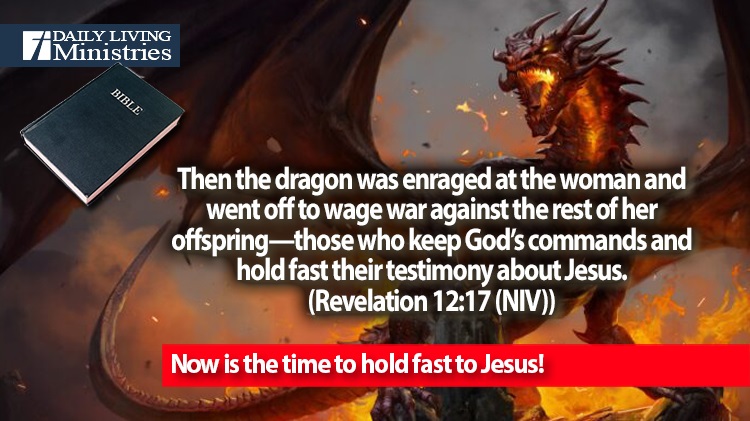 Be Still . . .
Devotionals for Daily Living ©
Then the dragon was enraged at the woman and went off to wage war against the rest of her offspring—those who keep God's commands and hold fast their testimony about Jesus.
(Revelation 12:17 (NIV))
Many people find the events recorded in Revelation to be overwhelming and hard to comprehend. Whether you are a student of prophecy or you are a complete novice, one thing is certain from this passage – if you profess a faith in Jesus and hold fast to that faith, the dragon will be waging war against you.
The great dragon was hurled down—that ancient serpent called the devil, or Satan, who leads the whole world astray. He was hurled to the earth, and his angels with him.
(Revelation 12:9 (NIV))
Satan is angry. He is angry at God. He is angry at Jesus, and he is angry at anyone who professes a faith in Jesus. He realizes that his time is short and he will lash out at those who are no longer within his grasp. Many people believe that this has already started to happen in various parts of the world, and that it is now happening here. Are you prepared? Are you holding fast to Jesus? Are you ready to proclaim that Jesus is your Lord and Savior no matter what circumstances you may find yourself in?
We are seeing things happening now where believers in Jesus are being targeted because of their testimony, because of their faith. Can you say with complete confidence that you will keep your eyes focused on Jesus? Can you say with complete confidence that you will not deny Jesus if circumstances arise where you are told to deny Jesus or die? I realize that these are tough questions. I realize that we may never face this in our lives, but I also realize that we could face this tomorrow. How will you respond? Are you fully prepared to have the enemy attack you because of your faith in Jesus? Are you fully prepared to stand firm, to hold fast and to fully rely on Jesus? We can overcome because He has overcome.
You, dear children, are from God and have overcome them, because the one who is in you is greater than the one who is in the world.
(1 John 4:4 (NIV))
We can fight the battle because we are His.
Put on the full armor of God, so that you can take your stand against the devil's schemes.
(Ephesians 6:11 (NIV))
We can bear His fruit because He is with us.
Remain in me, as I also remain in you. No branch can bear fruit by itself; it must remain in the vine. Neither can you bear fruit unless you remain in me.
(John 15:4 (NIV))
Now is the time to hold fast to Jesus!
Copyright 1998 – 2022 Dennis J. Smock
Daily Living Ministries, Inc.
http://www.dailylivingministries.org
Support Daily Living Ministries
Subscribe to daily email delivery
Visit us on facebook