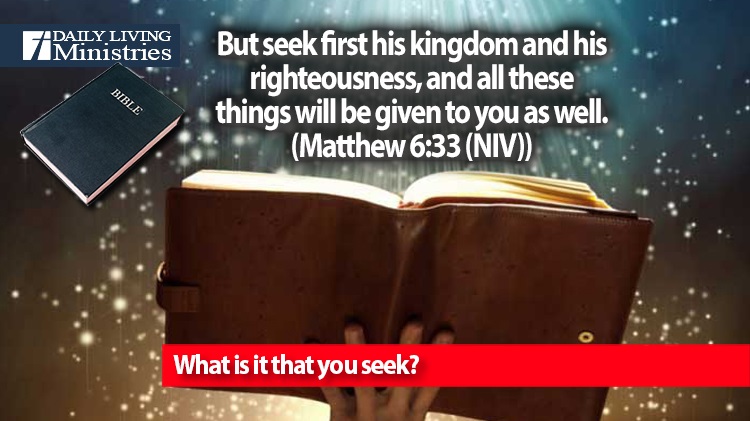 Be Still . . .
Devotionals for Daily Living ©
But seek first his kingdom and his righteousness, and all these things will be given to you as well.
(Matthew 6:33 (NIV))
What is it that you seek?
In our society, we have a tendency to seek after luxuries. That has been the human condition for as long as we have recorded history. To be honest with you, I am not exactly certain what God will give us, for He gives to each person according to His Will and His plan. All that you have to do is take a look at those whom He has blessed. Each blessing is different and each blessing is custom tailored to the person and their situation.
All throughout the Bible there have been examples of people that God has blessed with luxuries because they earnestly sought Him. Solomon comes to mind as one of these people whom God blessed with wisdom, power and riches. There are also examples of people who devoted their lives to God and only had locusts and wild honey to show for it. Don't get me wrong. John the Baptist was thoroughly blessed by God for his devotion. It was simply a blessing that many people have trouble understanding.
Matthew, in writing this passage, speaks not of luxuries, but of every day necessities such as food and clothing. God provides exactly what we need. Take another look at John the Baptist. He was blessed by God for He provided John the Baptist with locusts and wild honey. I don't think that we would consider that a blessing, but it truly was. It allowed John to preach repentance, to do God's Will, and not worry about what he would eat or what he would wear. God provided just what John needed so that John could fulfill his unique calling.
This is an important concept!
God provided just what was needed! He does not send blessings in the same way to everyone. He knows us so well that His blessings are as unique as we are.
He sent locusts and wild honey to John to sustain him. He also sent manna to the Israelites while they wandered in the desert. Even when they did not seek first His kingdom, He provided. He provided wisdom to Solomon because he wanted to rule justly and righteously. As a result, God provided so much more.
Take a look at all that you have. What do you seek first – more possessions or God's Word?
Life is ironic at times. When we seek after earthly security, it never comes. When we seek after God, He gives us Himself, His security, and all of these other things, too.
Seek after God's kingdom and not the luxuries of this world. He will surprise you with what He does give you, especially when you don't know what tomorrow will bring. Seek after the peace that passes all understanding. Seek after the One who can overcome all the troubles of this world! If you seek after these things, He will provide all that you need. In addition, you will be given eternity in His presence!
What is it that you seek?
Copyright 1998 – 2022 Dennis J. Smock
Daily Living Ministries, Inc.
https://www.dailylivingministries.org
Support Daily Living Ministries
Subscribe to daily email delivery
Visit us on facebook