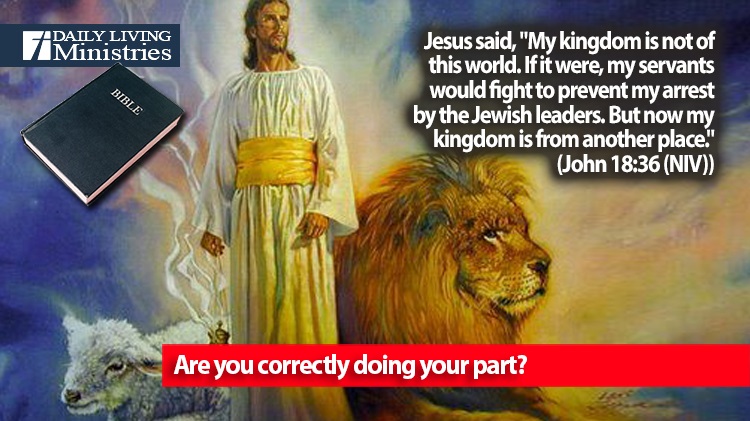 Be Still . . .
Devotionals for Daily Living ©
Jesus said, "My kingdom is not of this world. If it were, my servants would fight to prevent my arrest by the Jewish leaders. But now my kingdom is from another place."
(John 18:36 (NIV))
Do you believe that what Jesus told His followers then still applies now?
Why do we think that we have to fight, when we are clearly told that all we must do is be still.
The Lord will fight for you; you need only to be still."
(Exodus 14:14 (NIV))
All those gathered here will know that it is not by sword or spear that the Lord saves; for the battle is the Lord's, and he will give all of you into our hands."
(1 Samuel 17:47 (NIV))
Why do we think that we have to take matters into our own hands when all that we can do is mess things up? We can't guarantee the outcome of anything that we do, so why do we think that our feeble attempts at "helping" God will do anything at all? Why do we place our trust and our energy in human leaders when we should be turning things over to the Lord, for it is His Will that will be done?
We are told to put on the full armor of God, but that armor is not indicative of a physical battle. It is our call to prepare ourselves for a spiritual war that has already been decided because the Lord has planned it that way. When we try to put on physical armor, we are running the risk of making decisions that go against what the Lord has planned. When we put on the full armor of God, the spiritual nature of the warfare is outlined. We understand that our part in this battle is to rescue the lost and dying. Our part is to follow the leading of the Lord and do what we have been called to do since He gave us our orders.
Therefore go and make disciples of all nations, baptizing them in the name of the Father and of the Son and of the Holy Spirit, and teaching them to obey everything I have commanded you. And surely I am with you always, to the very end of the age."
(Matthew 28:19-20 (NIV))
We are to take a stand for what is right and true. We are to reach out to those who are hurting. We are to share the good news of Jesus with those who are still in need of a Savior. In other words, our part of the battle is rescuing those who are trapped in the clutches of the enemy. Everything else is up to the Lord. Everything else will unfold as He has planned and when He has it planned. There is nothing that we can do of our own strength that will change what He has planned.
However, we can pray!
We can pray for His Will to be done. We can pray for those who are in need of a Savior. We can pray for the hearts of the leaders, and we can pray for His kingdom to come.
It has been said that our part of the battle is to fall to our knees in prayer.
Are you correctly doing your part?
Copyright 1998 – 2023 Dennis J. Smock
Daily Living Ministries, Inc.
https://www.dailylivingministries.org
Support Daily Living Ministries
Subscribe to daily email delivery
Visit us on facebook