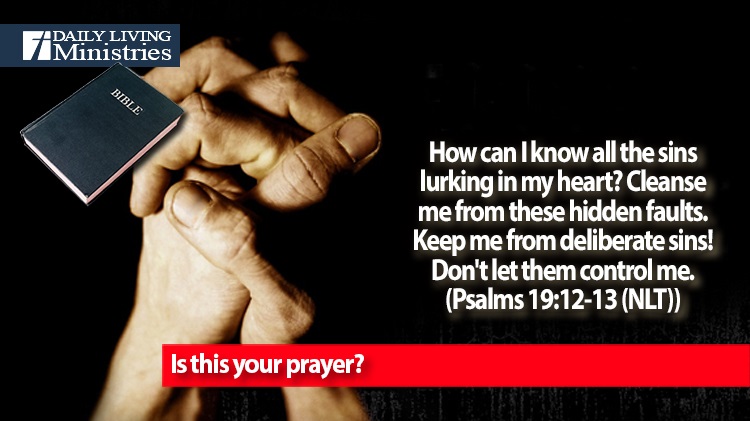 Be Still . . .
Devotionals for Daily Living ©
How can I know all the sins lurking in my heart? Cleanse me from these hidden faults.
Keep me from deliberate sins! Don't let them control me.
(Psalms 19:12-13 (NLT))
We like to think that we know how we would react in certain situations. We think that if we were placed in a situation that could easily lead us into sin, we would spot it a mile away and avoid it. It is human nature to think that it can happen to everybody else, but not to me.
That is exactly how Satan tricks us into the very things that we say we detest. He places just a little there to temp us and then plants the idea in our minds that anything in moderation is okay. Once he has this idea planted, moderation goes out the door. We can easily find ourselves in the midst of the very things that we detest. The bad thing about this is that we no longer detest them. We crave them!
We don't know what is lurking within our hearts. We don't know what and when something will surface. We may present an outward appearance of righteousness, but have an inner darkness that no one sees but God.
No one sees, but God !
We think that we can hide our faults from everyone including God. Nothing could be further from the truth. The only one that we are fooling is ourselves.
Take a close look at yourself. Closer still!
We all need to make the words of this passage our prayer, for without a conscious effort and God's grace, each of us will fall to the sins lurking within our hearts.
Is this your prayer?
Copyright 1998 – 2022 Dennis J. Smock
Daily Living Ministries, Inc.
http://www.dailylivingministries.org
Support Daily Living Ministries
Subscribe to daily email delivery
Visit us on facebook