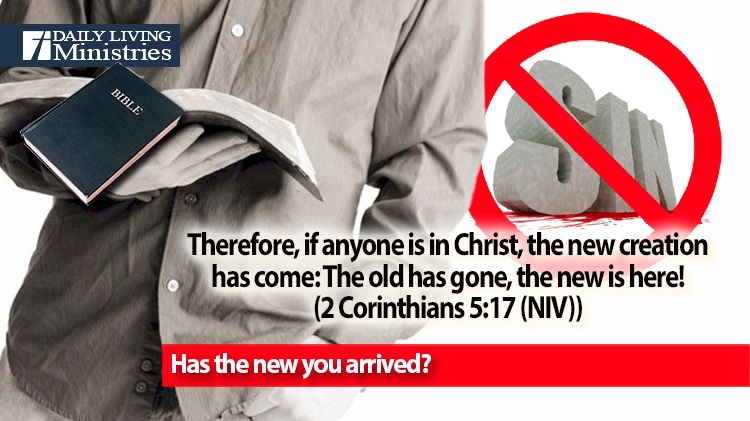 Be Still . . .
Devotionals for Daily Living ©
Therefore, if anyone is in Christ, the new creation has come: The old has gone, the new is here!
(2 Corinthians 5:17 (NIV))
What were you like before you accepted Jesus as your personal Lord and Savior?
Now that I have asked that question, and hopefully you have given it some thought, I have another question to ask.
Is there any difference in you before you accepted Jesus and after you accepted Jesus?
Let that question sink in. Accepting Jesus as your personal Lord and Savior is supposed to be made at the point where you realize that you are a sinner in need of a Savior. It is supposed to be the acknowledgment of the fact that you cannot change yourself. It is the point at which you fully understand the following passages.
for all have sinned and fall short of the glory of God,
(Romans 3:23 (NIV))
For the wages of sin is death, but the gift of God is eternal life in Christ Jesus our Lord.
(Romans 6:23 (NIV))
For God so loved the world that he gave his one and only Son, that whoever believes in him shall not perish but have eternal life. For God did not send his Son into the world to condemn the world, but to save the world through him. Whoever believes in him is not condemned, but whoever does not believe stands condemned already because they have not believed in the name of God's one and only Son.
(John 3:16-18 (NIV))
I realize that for many who read this, it is a truth that you have already accepted and embraced as part of your new life in Christ, but there are those who profess a faith in Jesus and still continue to do the very things that they did before that confession. They just can't seem to let go of the old. Not only do some refuse to let go, they choose to embrace the old even when they profess that they are a new creation in Christ. They fail to realize the one important thing that Jesus told the woman caught in adultery that still applies to us today.
Jesus declared. "Go now and leave your life of sin."
(John 8:11b (NIV))
We must repent. We must turn from our sins. We must deliberately choose to leave the old behind so that the new grace and mercy freely given through the cross may manifest itself in our lives.
Has the new you arrived?
Copyright 1998 – 2022 Dennis J. Smock
Daily Living Ministries, Inc.
http://www.dailylivingministries.org
Support Daily Living Ministries
Subscribe to daily email delivery
Visit us on facebook