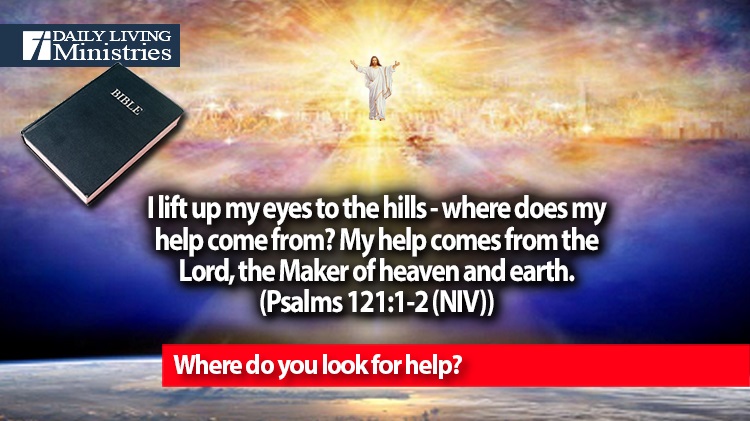 Be Still . . .
Devotionals for Daily Living ©
I lift up my eyes to the hills – where does my help come from? My help comes from the Lord, the Maker of heaven and earth.
(Psalms 121:1-2 (NIV))
So many people today are so dismissive of anything coming from the Lord if they admit that the Lord exists at all.
How about you?
What is your outlook, your attitude toward the Lord?
With all that is going on in the world, do you deny God, do you blame God, or do you look to God for help?
Hopefully, you are not part of the group that denies the Lord, for denial is not an excuse for sin. For those who blame God, their arrogance and self-centeredness have condemned them. For those of us who look to the Lord, we admit our sinful nature. We understand that the world is not our home. We know that this world will never be perfect because of sin. We know that all of humanity's attempts will end in disaster. We know beyond any doubt that there is only one hope for this world and His name is Jesus!
When the earth quakes and the waves roll, lift up your eyes!
When the rain falls and the mud slides, lift up your eyes!
When the enemy surrounds you on all sides, lift up your eyes!
The Lord is your help! Only He has the power and authority to fulfill all that He has promised.
For no matter how many promises God has made, they are "Yes" in Christ. And so through him the "Amen" is spoken by us to the glory of God.
(2 Corinthians 1:20 (NIV))
When it looks as if God's promises will not be fulfilled, lift up your eyes. He never fails. He is our only source of true help, hope and love!
Where do you look for help?
Copyright 1998 – 2022 Dennis J. Smock
Daily Living Ministries, Inc.
https://www.dailylivingministries.org
Support Daily Living Ministries
Subscribe to daily email delivery
Visit us on facebook