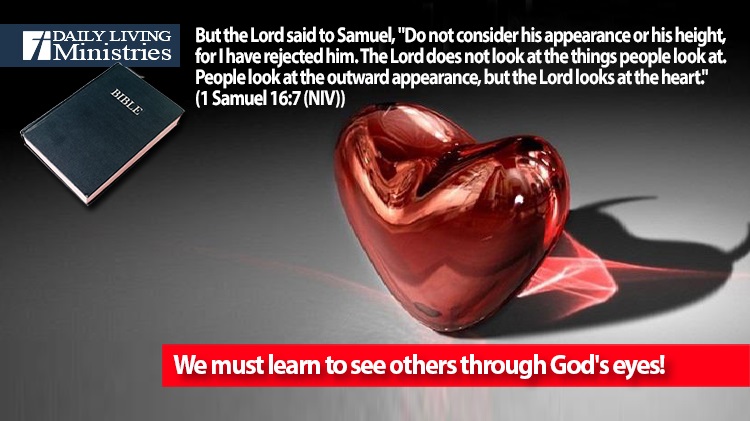 Be Still . . .
Devotionals for Daily Living ©
But the Lord said to Samuel, "Do not consider his appearance or his height, for I have rejected him. The Lord does not look at the things people look at. People look at the outward appearance, but the Lord looks at the heart."
(1 Samuel 16:7 (NIV))
How many times have you made a false judgment about someone simply based on their outward appearance?
If you are like me, you probably needed a little bit of time to be honest with yourself, especially when you come to the realization that we are all sinful, fallen creatures who are more concerned with the pretentiousness of the physical than any other aspects of our lives.
I believe that this happens as a result of our sinful, fallen nature. Let's face the truth. We lost so much when humanity believed a lie and fell from grace. We lost the direct connection with God the Father, and as a result, we lost our ability to truly discern things based on God's standards. Because of this, humanity has repeatedly fallen for the richest, the strongest, the tallest, the best looking, the most charismatic, and the most deceptive simply because we can only see the outer appearances. We can't see people the way that God sees them. In fact, we don't even see ourselves as God sees us. We see ourselves as worthless because we compare ourselves to what we can see in others. What we don't see is the hidden secrets behind the veil of the outward appearance. We make the assumption that what is on the inside is just as good as what we see on the outside.
When you look in a mirror, what do you see?
I would safely assume that you see more in yourself than your outer appearance, yet, still not as much as what God sees in you. If we know that we are more than our outer appearances, why do we make the assumption that others are not like that? We falsely judge the proverbial book by its cover while completely ignoring the chapters contained within. We see a pretty face. God sees a shallow heart. We see a handsome athlete. God sees a self-centered arrogance. We see a rich young man. God sees a lost soul. We see someone who seems to love the spotlight. God sees a lonely heart.
Appearances can be deceptive. Things are not always as they seem. We must learn to look beyond the superficial and learn to see people the way God sees them. If you stop to think about it, when you hear someone say that a certain person has a good heart, that is usually a slight backhanded stab at their outer appearance. The same can be said for when you refer to someone as having a great personality. Have you ever said anything like that about someone? If so, have you repented for this and asked God to let you see them as He sees them?
We must learn to see others through God's eyes!
Copyright 1998 – 2022 Dennis J. Smock
Daily Living Ministries, Inc.
http://www.dailylivingministries.org
Support Daily Living Ministries
Subscribe to daily email delivery
Visit us on facebook