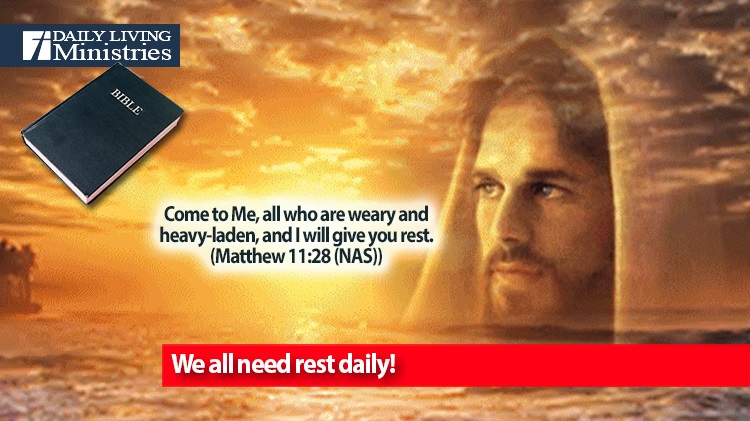 Be Still . . .
Devotionals for Daily Living ©
Come to Me, all who are weary and heavy-laden, and I will give you rest.
(Matthew 11:28 (NAS))
I have sent this before, but I feel that it bears repeating. I am sure that you will agree that there are some days where the world just seems to overwhelm you even when you know that you have a Savior who is there for you and will give you rest. Jesus did not tell us that we can only turn turn to Him once. In fact, we are often told that we need to repent daily, so why should we not be able to turn to Jesus on a daily basis for rest?
At this very moment, I feel extremely heavy-laden. I am weary in body and mind, but my spirit still knows that I have a place of strength to which I can turn and I do turn. The world has a way of beating each of us down, no matter how much we desire to stay focused on Jesus. We must never forget that He is our source of strength when the world oppresses us in any manner.
The LORD is a refuge for the oppressed,
    a stronghold in times of trouble.
(Psalms 9:9 (NIV))
It has taken me a long time to grasp this simple, yet profound truth. I know that I still have a long way to go in fully claiming this truth as my own, for in my humanity, I have times of weariness where it is difficult to stay focused. To be honest with you, I know that everyone does. It is only human nature. Rejoice, for we can overcome our nature if we keep our eyes focused on Jesus. Even in times of trouble, He is with us.
And surely I am with you always, to the very end of the age.
(Matthew 28:20b (NIV))
It is comforting to know that we have a place of refuge where we can go; that we have a friend who stays closer than a brother. We can always turn to Jesus, and I pray that we always do. Isn't it good to know that He is always there when we feel that we are weary. We can rest in His grace and mercy. We can rest in His love. We can rest in the assurance that He has overcome the world.
I have told you these things, so that in me you may have peace. In this world you will have trouble. But take heart! I have overcome the world.
(John 16:33 (NIV))
It is my prayer that everyone finds true rest in Jesus.
We all need rest daily!
Copyright 1998 – 2021 Dennis J. Smock
Daily Living Ministries, Inc.
http://www.dailylivingministries.org
Support Daily Living Ministries
Subscribe to daily email delivery
Visit us on facebook