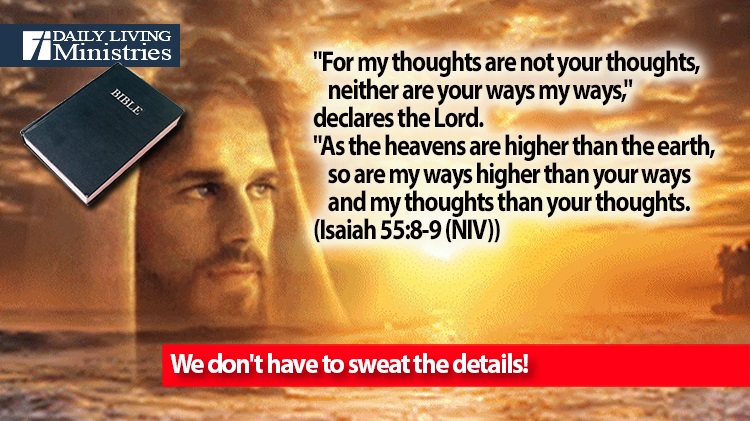 Be Still . . .
Devotionals for Daily Living ©
"For my thoughts are not your thoughts,
      neither are your ways my ways,"
declares the Lord.
"As the heavens are higher than the earth,
      so are my ways higher than your ways
      and my thoughts than your thoughts.
(Isaiah 55:8-9 (NIV))
Are you confused and stressed out about the events in the world? As the Body of Christ, we know that we should have peace, but at the same time, I am sure that many of us are wondering exactly what is going on. We may not understand it in detail, but rest assured that everything is unfolding just as God desires. It is according to His plan!
We have been given the proverbial highlight reel of His plan so that we would know that He is in control!
We don't have to sweat the details!
All that we have to do is trust in the Lord and rely on His thoughts and not our thoughts. We are to rely on His ways and not our ways. We are to be in this world but not of it. We are simply passing through as we rely on the Lord for His peace that passes all understanding.
I met a man in the parking lot of a local grocery store tonight. His comments about the price increases and the shortages seemed to consume him. He was worried about the next three years and what we would be facing. I actually had trouble getting in a word, but I did my best to assure him that God is in control. To be honest with you, I am not sure he heard me since he was so consumed by his worry. Sitting here tonight as I write this, I realize that this man represents those in the world who are only looking at the physical. They, like he, see no hope in our current situation. They feel completely helpless, hopeless and lost!
As a believer, do you currently feel helpless, hopeless and lost? Your answer reflects your relationship with the Lord. Do you need to take this time to repent and rely on His grace and mercy? Are you ready for whatever His plan unfolds because you fully trust in the Lord?
I am saddened by the things that I see, for they mean that those who do not know Jesus as their personal Lord and Savior do not share in the hope that we have. I am saddened for these individuals because they are on the brink of eternal separation from God. I pray that their eyes would be opened to His grace and mercy. At the same time, I am amazed and I am at peace. I am amazed that I get to live in such a time as this. I am also at peace for I know that my Savior lives!
Have you ever stopped to thank God for His thoughts and His ways? Have you ever stopped to thank Him for loving you enough to send Jesus? He has every single detail of His plan unfolding just as He is orchestrating it. He is in complete control.
We don't have to sweat the details!
Copyright 1998 – 2022 Dennis J. Smock
Daily Living Ministries, Inc.
http://www.dailylivingministries.org
Support Daily Living Ministries
Subscribe to daily email delivery
Visit us on facebook