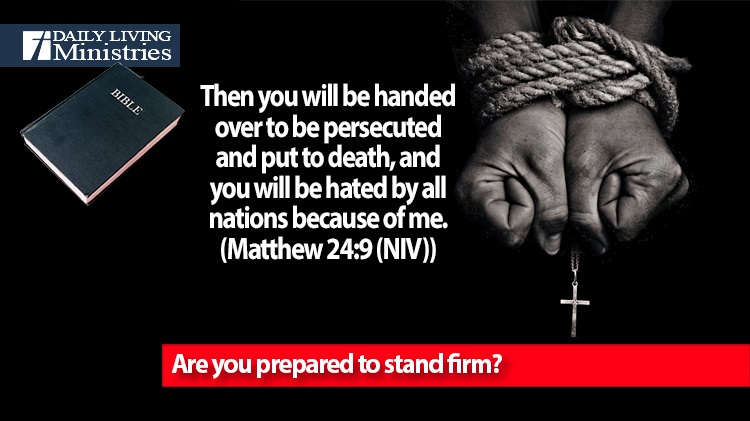 Be Still . . .
Devotionals for Daily Living ©
Then you will be handed over to be persecuted and put to death, and you will be hated by all nations because of me.
(Matthew 24:9 (NIV))
I realize that this sounds harsh and extreme. We look to Jesus to save us from our sin, but do we really accept the fact that we will face persecution, that we will face troubles and death? Is this what you signed up for when you accepted Jesus as your personal Lord and Savior?
Where else do we have to go?
Hopefully, you answer as Peter did.
Simon Peter answered him, "Lord, to whom shall we go? You have the words of eternal life. We have come to believe and to know that you are the Holy One of God."
(John 6:68-69 (NIV))
The world is in a mess and getting worse every day. We cannot trust in man's governments. We cannot trust in man's wisdom. Anything in this world is corrupt and only produces more corruption. Anyone who professes a faith in Jesus is proclaiming that they do not trust anything of this world and that they only trust in Jesus. As a result of this proclamation of faith, the enemy is closing in. The world hates those who love Jesus.
I have told you these things, so that in me you may have peace. In this world you will have trouble. But take heart! I have overcome the world.
(John 16:33 (NIV))
I am sure that you have heard the saying that it is better to be judged by the world than to be judged by God. The world's judgment is temporary. God's judgment is eternal. No matter what the world may send our way, we are to stay focused on Jesus. We are to do what Paul strived to do.
I press on toward the goal to win the prize for which God has called me heavenward in Christ Jesus.
(Philippians 3:14 (NIV))
Is the world better than the prize that we long for? Is the trouble that we may face worth it if we can see Jesus face to face? Is the hatred and the scorn of the world counted as joy because we are holding fast to the hope that we have in Jesus? I realize that many people who profess a faith in Jesus believe that we will not see this persecution because we will be raptured before it begins. I once had a preacher who would say that we should pray for pre-tribulation rapture, but we should prepare for post. I don't want to get into a theological debate about when, but I do want to ask one simple question based on that statement about being prepared. Is your faith strong enough to stand firm no matter what you may face? We are told that many will turn away because of this persecution.
At that time many will turn away from the faith and will betray and hate each other,
(Matthew 24:10 (NIV))
Are you prepared to stand firm?
Copyright 1998 – 2021 Dennis J. Smock
Daily Living Ministries, Inc.
http://www.dailylivingministries.org
Support Daily Living Ministries
Subscribe to daily email delivery
Visit us on facebook