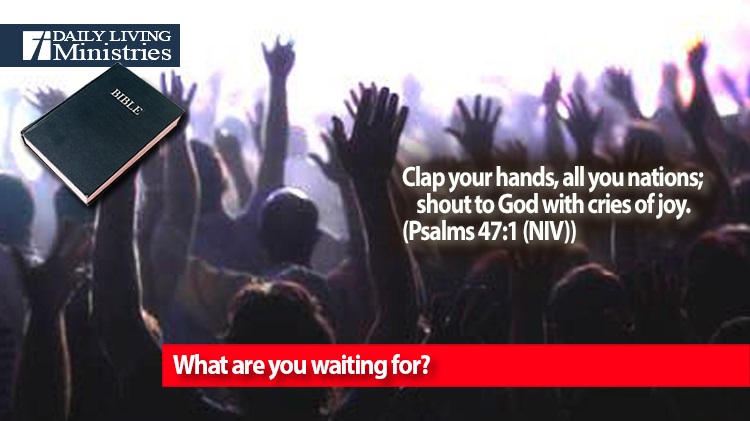 Be Still . . .
Devotionals for Daily Living ©
Clap your hands, all you nations;
shout to God with cries of joy.
(Psalms 47:1 (NIV))
With all that is going on in the world, this sounds like it is so far off from becoming a current reality. I realize that the world has never been a righteous place, but it seems like it is slipping further and further away from God's plans.
Is there an end to this descent in sight?
We must remember that God is in charge and that things are happening according to His timing. The wheat and the weeds may be growing up evenly, but I have a question for you. Just because the wheat is planted among weeds, does it stop being wheat? Does it stop producing grain that takes root and grows more wheat plants? Why do we, as the Body of Christ, look around with an attitude of despair because we are surrounded by evil? I realize that we feel compassion for those who are lost, but we are still called to be the Body of Christ where we are planted. We are to do exactly as the psalmist wrote.
We are to clap our hands in praise to God!
We are to shout to God with cries of joy!
What we are not to do is let our circumstances keep us from praising our God!
We are to do exactly what Jesus told the Pharisees His followers would do when the Pharisees tried to rebuke those who shouted.
"Blessed is the king who comes in the name of the Lord!"
"Peace in heaven and glory in the highest!"
Some of the Pharisees in the crowd said to Jesus, "Teacher, rebuke your disciples!"
"I tell you," he replied, "if they keep quiet, the stones will cry out."
(Luke 19:38-40 (NIV))
We know what we are supposed to do. Do you want to let a stone out-praise you?
What are you waiting for?
Copyright 1998 – 2022 Dennis J. Smock
Daily Living Ministries, Inc.
https://www.dailylivingministries.org
Support Daily Living Ministries
Subscribe to daily email delivery
Visit us on facebook