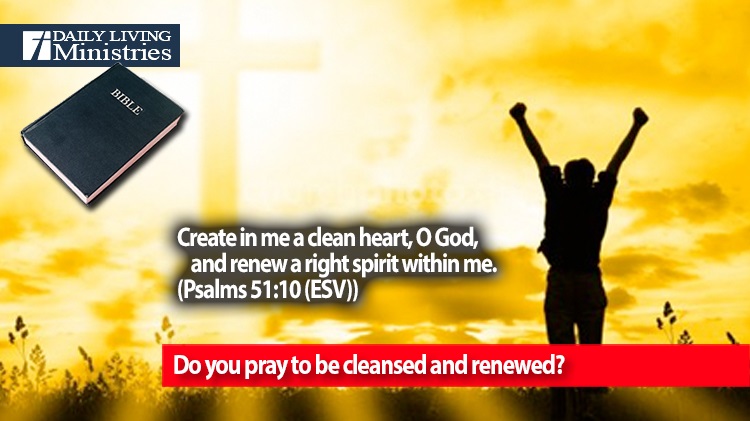 Be Still . . .
Devotionals for Daily Living ©
Create in me a clean heart, O God,
     and renew a right spirit within me.
(Psalms 51:10 (ESV))
Some translations say a pure heart instead of a clean heart. In your mind, what is the difference between cleanliness and purity? Have you ever given any thought to this? Whatever translation and whatever word that you use, David is asking the Lord to take control of his heart and to remove all instances of sin. It is the heart that directs a person. It is the heart that hides what you truly desire. It is the heart that guides our actions and our words.
But what comes out of the mouth proceeds from the heart, and this defiles a person.
(Matthew 15:18 (NIV))
Where does your heart guide you? What does your heart make you say and do?
I have been writing and sending these out for almost twenty-five years. Honestly, there have been times when my heart is not where it should be. My spirit is not where it should be. I am only human, and we all go through highs and lows, even when we profess a faith in Jesus. Sometimes we can get stuck in a rut, a routine, and miss the big picture because we are focusing on the small stuff. This happens to everyone, and when it happens, we must recognize our condition and bring it to the Lord. I have found that the greater the frequency of turning to God, the better the outcome, for He always brings cleanliness, purity, and renewal when you ask.
How often do you ask?
If you find yourself thinking that you are good and don't have to ask that often, then I think a very thorough self-reflection is called for. All of us are human and as sinful, fallen humanity, we can't go very long without sinning. We may make it a day. We may make it a few hours, or we may only make it a few minutes. No matter how long we may make it without sinning, it is not long enough.
for all have sinned and fall short of the glory of God,
(Romans 3:23 (NIV))
Personally, there are several things that I try to discipline myself to do. Some of them include:
1. Being still in His presence
2. Reading and studying His Word
3. Praying for cleansing and righteousness
4. Praying in general
I could add more, but these are the ones that come to mind at the moment. I love to be still in His presence, yet, I am fearful for I know that I am a sinner. I long to be cleansed and renewed so that I may mature into the image of Christ.
Do you pray to be cleansed and renewed?
Copyright 1998 – 2022 Dennis J. Smock
Daily Living Ministries, Inc.
http://www.dailylivingministries.org
Support Daily Living Ministries
Subscribe to daily email delivery
Visit us on facebook