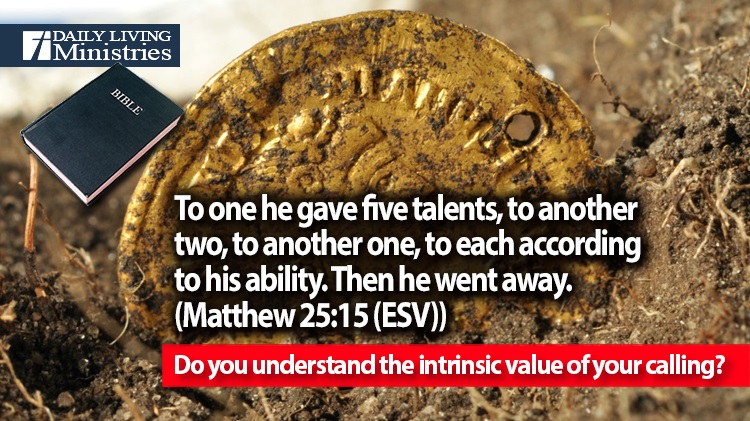 Be Still . . .
Devotionals for Daily Living ©
To one he gave five talents, to another two, to another one, to each according to his ability. Then he went away.
(Matthew 25:15 (ESV))
I find it amazing how you can read something many times and think that you understand it, only to have your eyes opened to the impact of the words once you find out some historical context.
When we read these words, we don't dwell too much on the talents. We don't have any historical perspective and we think that the talents were not that much money. When you read the following translation, your perspective changes!
To one he gave five talents [equivalent to a hundred years' wages]; to another, two talents; and to another, one talent — to each according to his ability. Then he left.
(Matthew 25:15 (CJB))
In today's mindset, five talents is the equivalent of the wages of three generations in your family! It was not a small amount! Even one talent was the equivalent of twenty years wages! These sums of money were of considerable worth and this parable was used to drive home the concept that what we are given in this life is not to be taken lightly. God has given us each distinct gifts that we are to use for His kingdom. Some of us have more gifts, but that does not mean that if you have fewer gifts that you are to hide them. We are all called to be good stewards of the "talents" that we have been given.
So Christ himself gave the apostles, the prophets, the evangelists, the pastors and teachers, to equip his people for works of service, so that the body of Christ may be built up until we all reach unity in the faith and in the knowledge of the Son of God and become mature, attaining to the whole measure of the fullness of Christ.
(Ephesians 4:11-13 (NIV))
Each member of the Body of Christ is important. God has created each of us for His purpose. We must not compare our talents with those of others. We must keep our eyes on the Lord and seek Him in all that we do.
Now if the foot should say, "Because I am not a hand, I do not belong to the body," it would not for that reason stop being part of the body. And if the ear should say, "Because I am not an eye, I do not belong to the body," it would not for that reason stop being part of the body. If the whole body were an eye, where would the sense of hearing be? If the whole body were an ear, where would the sense of smell be? But in fact God has placed the parts in the body, every one of them, just as he wanted them to be. If they were all one part, where would the body be? As it is, there are many parts, but one body.
(1 Corinthians 12:15-20 (NIV))
Jealousy is not a pretty thing to see in a person. It all stems from ego and pride. As members of the Body of Christ, we must pray to overcome these sinful characteristics. We must pray to stay firmly grounded in God's Word. If we are given a "talent," we must use it. We must not hide it out of fear. We must not hide it because our "talents" are not as many as someone else. What we are called to do is unique to each of us. I have heard this story before. I do not know the validity of it, but it is useful in getting the point across. What if a person had a single talent, a single calling on his life, but failed to answer that calling. What if the person who shared Jesus with Billy Graham had hidden his one talent?
We may not understand. We may not see the value. We may not truly recognize the importance of what we have been called to do, but God does. He sees the end from the beginning. God knows the value of each moment in our lives. He does not desire for any to waste their "talents!"
Do you understand the intrinsic value of your calling?
Copyright 1998 – 2023 Dennis J. Smock
Daily Living Ministries, Inc.
https://www.dailylivingministries.org
Support Daily Living Ministries
Subscribe to daily email delivery
Visit us on facebook