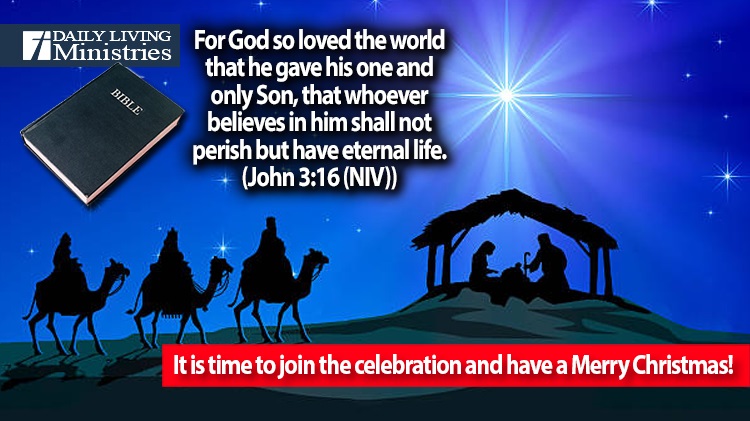 Be Still . . .
Devotionals for Daily Living ©
For God so loved the world that he gave his one and only Son, that whoever believes in him shall not perish but have eternal life.
(John 3:16 (NIV))
There will never be a greater gift that can be given!
To those who have accepted this gift of grace, we use this passage to convey exactly what God has done. We use it to explain to others what can be theirs if they will only accept. We use it to explain the magnitude of God's love for His creation, but, I think that we use it to remind ourselves of the mercy that we have been given. We use it to remind ourselves that we were all sinners in need of a Savior. We us it to remind ourselves that we were helpless, hopeless and lost as a result of our sin. We use it to remind ourselves that we are not worthy to receive such a great gift, but, God gave it to us in spite of ourselves.
In just a few days, we will celebrate the birth of our Lord and Savior. We will celebrate Jesus stepping out of eternity and into this world so that we could be ransomed by His great love. For those who profess a faith in Jesus as their personal Lord and Savior, you truly have something to celebrate. Do you need to join the celebration? For those who have not made that profession of faith as of yet, it is as easy as ABC.
A is for admit that you are a sinner in need of a savior.
B is for believe in your heart that Jesus Christ died for your sins, was buried, and that God raised Him from the dead.
C is for call upon the name of the Lord Jesus.
The greatest gift of all time is yours. All that you must do is accept.
I have referred to this before. The word "merry" in Old English means "mighty." The word Christmas is a shortened version of two words "Christ Mass" in which the birth of Jesus was officially celebrated by the church. People would wish each other a blessing so that they would have a MIGHTY (Merry) Christ's Mass (Christmas). They wanted each believer to fully realize the gift of grace and mercy that was theirs because God sent His Son Jesus into this world.
It is time to join the celebration and have a Merry Christmas!
Copyright 1998 – 2022 Dennis J. Smock
Daily Living Ministries, Inc.
https://www.dailylivingministries.org
Support Daily Living Ministries
Subscribe to daily email delivery
Visit us on facebook