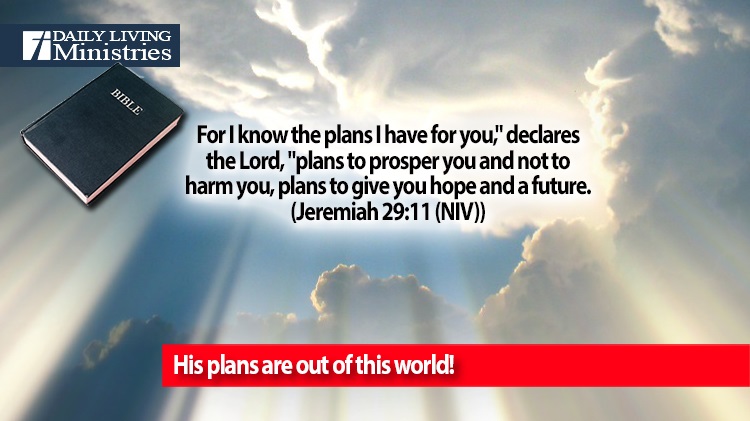 Be Still . . .
Devotionals for Daily Living ©
For I know the plans I have for you," declares the Lord, "plans to prosper you and not to harm you, plans to give you hope and a future.
(Jeremiah 29:11 (NIV))
Do you feel like you have hope and a future?
Your answer to that question is all a matter of perspective.
Do you look at your life in relation to how things are in the world around you or do you look at your life in relation to whose you are?
You can feel helpless, hopeless and lost if you focus on the things of this world, especially when the things of this world are progressing as they have been for the last few years. If your hope is based on worldly things, then you truly are helpless, hopeless and lost for the things of this world are rapidly turning evil and depraved. We can focus on the troubles that we are walking through, or we can focus on the promises that are at the end of those troubles and we can focus on the one who is with us even in the midst of those troubles. Even the disciples of Jesus knew that they would face troubles. They also knew that they had placed their faith in the one who has overcome the troubles of this world.
"I have told you these things, so that in me you may have peace. In this world you will have trouble. But take heart! I have overcome the world."
(John 16:33 (NIV))
The words from Jeremiah were recorded when many had been carried into exile from Jerusalem to Babylon. In essence, they were taken captive and taken to another country. Babylon was not a country you went to for a vacation. They took captives from all of the lands that they had defeated in war. They attacked the other countries in order to extend their kingdom! The words recorded within Jeremiah were a promise to those who were in the midst of very difficult times. They were a promise from the Lord that He still had plans for them. He still knew what the future held even though the people in captivity could see no possible reason to have any hope.
The Lord is still saying this today to those who call upon His name!
He has plans for us. He has given us a hope far greater than the promise of the hope that He gave to the exiles. They were looking for freedom in the physical world. We have been given freedom from the consequences of our sins. He has such amazing plans for those who call upon His name. We should know a peace that passes all understanding even in the midst of the chaos of this world. Our peace comes from the One who has overcome the world by defeating sin and death. Our true prosperity is coming as we are given an eternity in His presence.
His plans are out of this world!
Copyright 1998 – 2022 Dennis J. Smock
Daily Living Ministries, Inc.
https://www.dailylivingministries.org
Support Daily Living Ministries
Subscribe to daily email delivery
Visit us on facebook