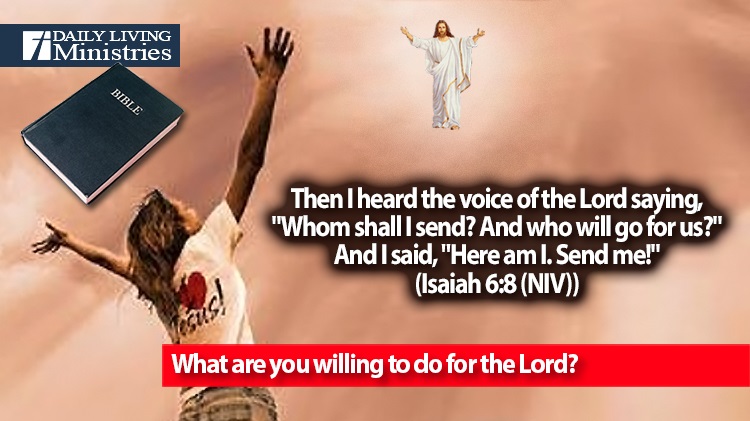 Be Still . . .
Devotionals for Daily Living ©
Then I heard the voice of the Lord saying, "Whom shall I send? And who will go for us?" And I said, "Here am I. Send me!"
(Isaiah 6:8 (NIV))
I read this passage and I realized that this type of willingness requires a strength of faith, and then I realized that we choose to have that strength through the things that we do. We can cower in fear or we can realize where our strength truly comes from and step boldly into that strength.
Finally, be strong in the Lord and in his mighty power. Put on the full armor of God, so that you can take your stand against the devil's schemes.
(Ephesians 6:10-11 (NIV))
When we choose to put on the full armor of God, we choose to embrace that strength. We choose to side with the God of creation. We choose to accept His authority and His protection. When we realize that His strength is imparted to us when we are doing His Will, what reason would we have for not stepping out in faith and saying, "Here am I. Send me!"
Are you willing to step out in faith and go where He sends and do what He asks?
Think about that for just a moment.
The Lord has freely given each of us so very much. We should be so thankful that we are delighted to do His will. We should be eager in our zeal for the Lord. Sadly, too many of us think only of our own comfort zones. We think only of the sacrifices that we would be called to make. What would our world, what would our salvation be if Jesus had thought only of His comfort?
Is there something that constantly tugs at your spirit that you know is from the Lord? Do you need to slow down long enough to listen to what the Lord is saying? Do you need to listen to that still, small voice? Do you need to respond?
What are you willing to do for the Lord?
Copyright 1998 – 2021 Dennis J. Smock
Daily Living Ministries, Inc.
http://www.dailylivingministries.org
Support Daily Living Ministries
Subscribe to daily email delivery
Visit us on facebook