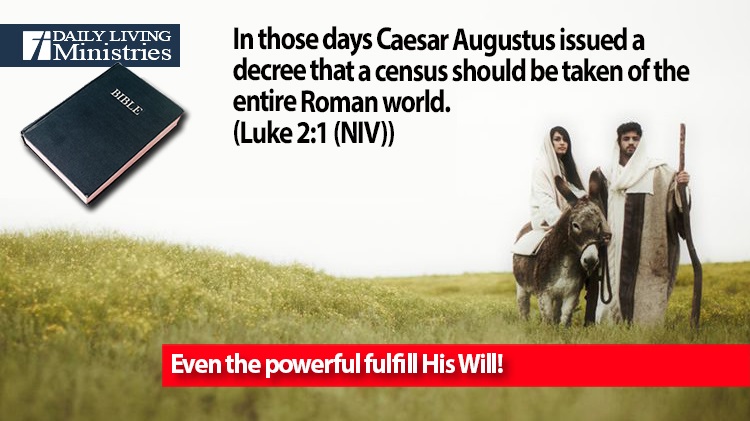 Be Still . . .
Devotionals for Daily Living ©
In those days Caesar Augustus issued a decree that a census should be taken of the entire Roman world.
(Luke 2:1 (NIV))
If I were a betting person, I would say that Caesar Augustus probably thought that the census was his idea.
I love how the Lord makes things happen according to His purpose. I love how He uses people to fulfill His plans. Without the census, Joseph and Mary would not have had to make the trip to be counted. Without the census, Jesus would not have been born where the prophets had said that He would be born. Without this census, God's timing would not have unfolded as we know it.
To Caesar Augustus, ordering the census was probably all part of an egotistical idea to see how many people fell under his rule, but to God, this was all part of His plan to accurately fulfill the many prophecies of the birth of Jesus. God is the master architect of all creation. He has been working His plan according to His purpose and His timing ever since the fall from grace in the Garden of Eden. This census did not take God by surprise. He knew it would happen exactly when it happened. He knew that it would be the catalyst for Joseph and Mary to be in the right town when Jesus was born.
Do you think that Caesar Augustus understood all of the ramifications of his census? Do you think that he knew what God was using him to bring about?
"For my thoughts are not your thoughts,
     neither are your ways my ways,"
declares the Lord.
(Isaiah 55:8 (NIV))
We may not fully understand the details of things that God unfolds as He is unfolding them, but we do know that His plan is the victor in the end. We may not see every single little step or detail, but we know how it ends. We are to keep our eyes on Jesus and firmly place our trust in Him even when things look like they are completely falling apart. Think about that. The last thing that the Jews wanted to do was to be subjugated under Roman authority, yet it was that Roman authority that set in motion the very thing that allowed the birth of Jesus to fulfill prophecy.
Are we seeing anything in the world today that God could be using to fulfill His Will?
Even the powerful fulfill His Will!
Copyright 1998 – 2021 Dennis J. Smock
Daily Living Ministries, Inc.
http://www.dailylivingministries.org
Support Daily Living Ministries
Subscribe to daily email delivery
Visit us on facebook