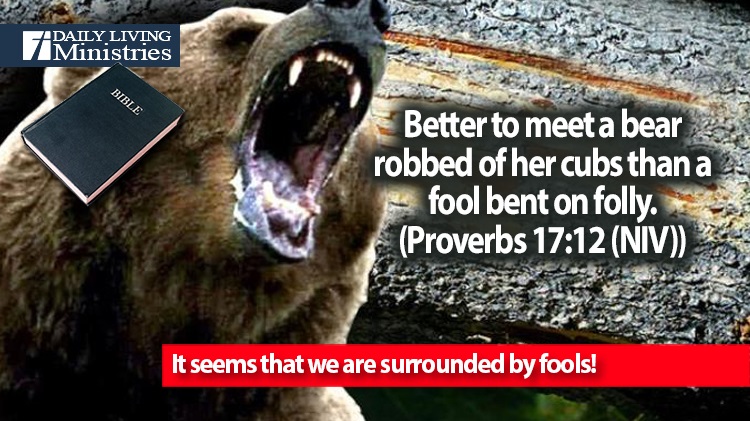 Be Still . . .
Devotionals for Daily Living ©
Better to meet a bear robbed of her cubs than a fool bent on folly.
(Proverbs 17:12 (NIV))
On the surface, this doesn't make much sense from our limited worldly understanding. We think that the dangers from an angry bear far outweigh the dangers we would encounter when meeting a fool. We can potentially get away from the fool, but there is no way that any of us could outrun an angry bear. Our physical life would be greatly crippled or ended by encountering an angry bear. But, we have to stop and reflect on God's definition of a fool.
The fool says in his heart,
     "There is no God."
They are corrupt, their deeds are vile;
     there is no one who does good.
(Psalm 14:1 (NIV))
If you encounter someone who says that there is no God and they intend to do harm, they can potentially do far greater damage than any of us could possibly imagine. They have no moral compass. They have no sense of right and wrong, good and evil. All that they think about is themselves and their folly. If you look back on history, you can probably pinpoint examples of such people as these simply by the shear evil that they have caused, by the shear volume of deaths that they are responsible for.
Sadly, historical figures do not appear to be the end of these types of people!
We are told what the world will be like at the end of the age. We are told that people will be lovers of self and that they will deny God. I don't know about you, but this sounds pretty foolish to me. We are told that the wheat and the tares, good and evil, will grow together until the harvest. We are told that as believers in Jesus as our personal Lord and Savior, we will face persecution. It is not too far of a stretch of the imagination to draw the conclusion that this persecution will come from fools bent on folly. As the world stands now, half of the world's population seem to be fools who say that there is no God. We must stand firm in our faith even in the midst of troubles, even in the midst of fools.
Stand firm!
It seems that we are surrounded by fools!
Copyright 1998 – 2021 Dennis J. Smock
Daily Living Ministries, Inc.
http://www.dailylivingministries.org
Support Daily Living Ministries
Subscribe to daily email delivery
Visit us on facebook