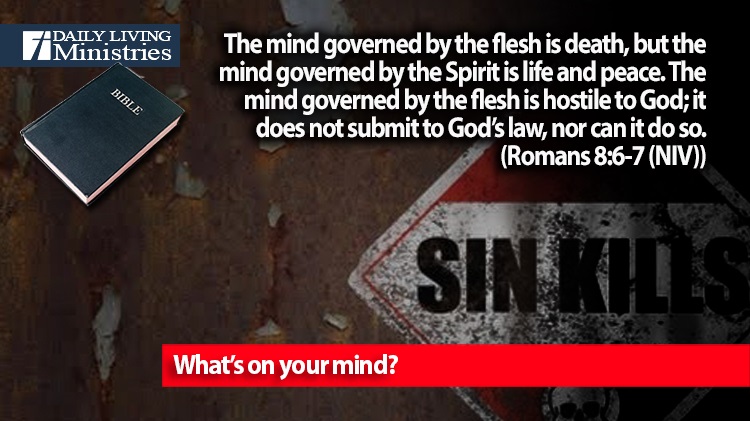 Be Still . . .
Devotionals for Daily Living ©
The mind governed by the flesh is death, but the mind governed by the Spirit is life and peace. The mind governed by the flesh is hostile to God; it does not submit to God's law, nor can it do so.
(Romans 8:6-7 (NIV))
Two very distinct examples of what awaits us if we continue to let the flesh rule our minds.
We are told in Galatians what we face, what we will see as the characteristics of the mind governed by the flesh, and they are not pretty.
The acts of the flesh are obvious: sexual immorality, impurity and debauchery; idolatry and witchcraft; hatred, discord, jealousy, fits of rage, selfish ambition, dissensions, factions and envy; drunkenness, orgies, and the like. I warn you, as I did before, that those who live like this will not inherit the kingdom of God.
(Galatians 5:19-21 (NIV))
Do you see these characteristics in your life?
If so, what does that say about the things that control your mind? What does that say about the actions that we must take?
We demolish arguments and every pretension that sets itself up against the knowledge of God, and we take captive every thought to make it obedient to Christ.
(2 Corinthians 10:5 (NIV))
When we accept Jesus as our personal Lord and Savior, we have accepted the grace that is freely given, but we have also accepted the fact that our lives are not supposed to be the same as before we accepted Jesus. We are to relinquish the things of this world, the things of the flesh, and focus on the things of God. We are to strive, with His help, to replace the acts of the flesh with things of the Spirit. We are to bear good fruit according to His purpose.
But the fruit of the Spirit is love, joy, peace, forbearance, kindness, goodness, faithfulness, gentleness and self-control. Against such things there is no law.
(Galatians 5:22-23 (NIV))
We are to make a daily decision to have our minds governed by the fruit of the Spirit.
I realize that we are born sinners and that we live in a sinful, fallen world, but the decision is ours. We have been told that we will face troubles in this world, but we are to focus on Jesus, for He has overcome the world. We are to fill our minds with things of God and not things of this world. You will be surprised at what can and will happen in your life when this becomes your priority. It all starts with what you think about!
What's on your mind?
Copyright 1998 – 2023 Dennis J. Smock
Daily Living Ministries, Inc.
https://www.dailylivingministries.org
Support Daily Living Ministries
Subscribe to daily email delivery
Visit us on facebook