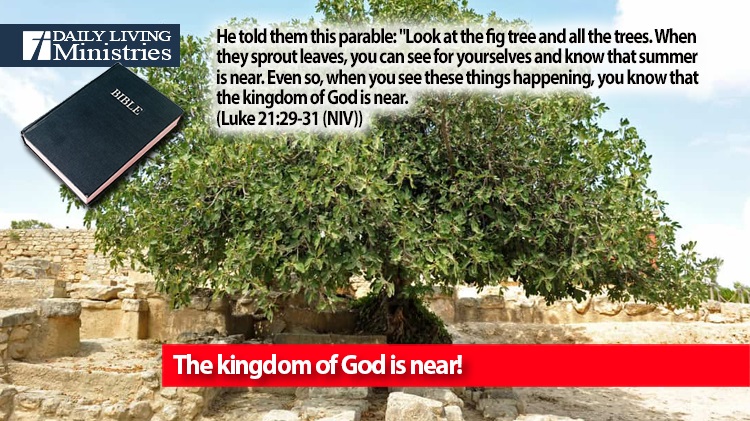 Be Still . . .
Devotionals for Daily Living ©
He told them this parable: "Look at the fig tree and all the trees. When they sprout leaves, you can see for yourselves and know that summer is near. Even so, when you see these things happening, you know that the kingdom of God is near.
(Luke 21:29-31 (NIV))
Are you paying attention?
God is trying to get our attention. For those who profess a faith in Jesus as their personal Lord and Savior, He is calling us to recognize the signs. For those who shun Him, He is calling them to repentance by shaking up the world in an effort to get their attention. No matter which group you consider yourself to be in, God is calling us to recognize the times and to look to Jesus!
There are so many things unfolding in this world at this specific time in history that if I presented everything that correlates to and supports the widely held belief that the time of the end is here, then I would need to write nonstop relaying everything that is happening all around the world. It is too much for one person to even attempt to undertake, so I prayerfully ask you to seek the Holy Spirit for discernment and wisdom. The proverbial fig tree is sprouting leaves!
Are you so engrossed in your daily lives that you miss what is unfolding right before your eyes?
Are you so engrossed in the media distractions that you miss the true news and events of significance in this world?
Are you more aware of who was awarded what in the recently televised defamation lawsuits than you are aware of the vast number of food processing plants burning to the ground?
Jesus refers to those who believe in Him as His flock. He seeks and saves the lost sheep of the flock. There appears to be another flock that people can be part of, especially when you consider that sheep are considered to be mindless and will follow anything that distracts them. Don't be distracted by the world. Keep your eyes focused on Jesus!
The kingdom of God is near!
Copyright 1998 – 2022 Dennis J. Smock
Daily Living Ministries, Inc.
http://www.dailylivingministries.org
Support Daily Living Ministries
Subscribe to daily email delivery
Visit us on facebook