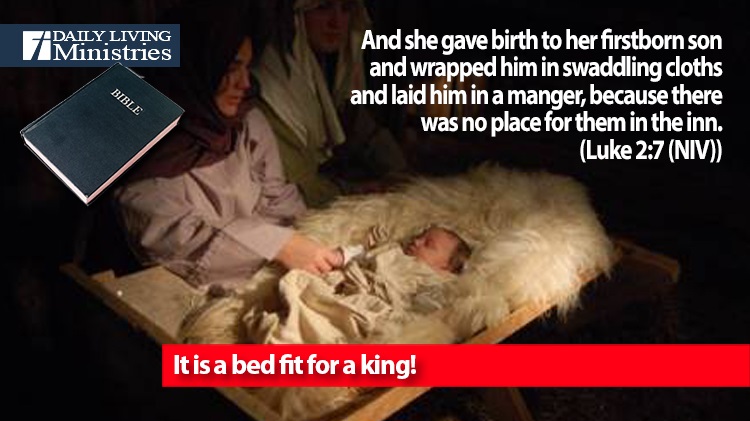 Be Still . . .
Devotionals for Daily Living ©
And she gave birth to her firstborn son and wrapped him in swaddling cloths and laid him in a manger, because there was no place for them in the inn.
(Luke 2:7 (ESV))
Everyone who professes a faith in Jesus as their personal Lord and Savior knows the story of His lowly birth.
To be honest with you, I am still amazed that He stepped out of heaven to become one of us. How many kings would give up their throne? How many kings would exchange places with the least of their kingdom? How many kings would willingly walk among their people as one of them, only to willingly die so that their people might live?
God's gift of grace is amazing. It is beyond comprehension, yet, it still happened. It all began with a single birth that the world didn't even notice, and today, over two thousand years since that birth, that single birth has been used to divide time. It has been used to bring grace and salvation. It has also been used to bring division between those who do not believe and those who do.
Never before or since has a single birth been so crucial to all of humanity!
To those who profess a faith in Jesus as your personal Lord and Savior, I want to take a moment and wish you a Merry Christmas, for His birth was the beginning of God's plan to bring about salvation. It is when our Lord stepped out of heaven and went to sleep as a baby in a manger. No bed has ever performed such an important role, for this feeding trough, this manger, became the bed for the King of kings and the Lord of lords.
Have you ever thought of the manger in this manner? Have you ever given thought to how a lowly animal feeding trough became the symbol of the birth of Jesus? The manger now symbolizes new beginnings. It symbolizes grace and mercy. More importantly, it symbolizes God's love for us.
It is a bed fit for a king!
Copyright 1998 – 2022 Dennis J. Smock
Daily Living Ministries, Inc.
https://www.dailylivingministries.org
Support Daily Living Ministries
Subscribe to daily email delivery
Visit us on facebook