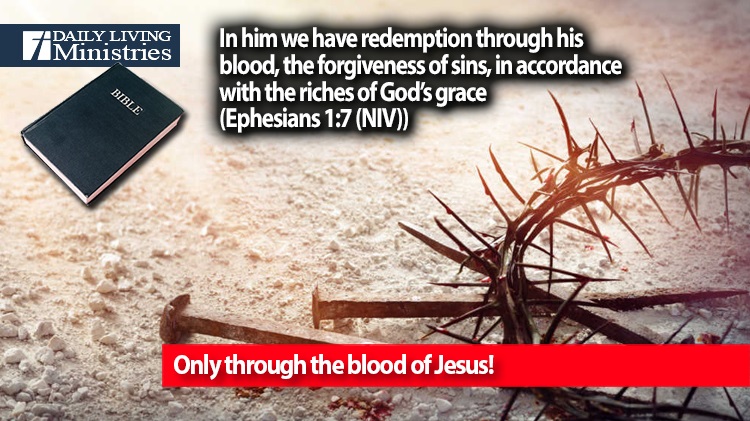 Be Still . . .
Devotionals for Daily Living ©
In him we have redemption through his blood, the forgiveness of sins, in accordance with the riches of God's grace
(Ephesians 1:7 (NIV))
All throughout history, humanity has searched for something to fill a void, to give us something that was missing.
If you stop to think about your life before you accepted Jesus as your personal Lord and Savior, you can attest to this. All that you have to do is take a look at all of the things that you chased after to fill up that emptiness that was in your life. People have tried to fill that void with wealth, power, lust, greed, envy, anger, bitterness, revenge, and so many more things that I should probably not even attempt to mention.
All of this was a result of the single biggest problem that humanity has ever faced, and it all started in the Garden of Eden with Adam and Eve.
for all have sinned and fall short of the glory of God,
(Romans 3:23 (NIV))
Ever since the fall from grace, humanity has had an emptiness that was left when the direct relationship with God was severed through the cunning lies of the enemy. Ever since this happened, we have been helpless, hopeless and lost. We have been left in a sinful, fallen world of our own making and we had no way out. Humanity created various different gods to try to fill the emptiness. We have gone after these gods in vain hope of being able to escape, to find redemption, to find forgiveness. Humanity has tried every possible avenue, every possible gate, every possible road.
"Enter through the narrow gate. For wide is the gate and broad is the road that leads to destruction, and many enter through it. But small is the gate and narrow the road that leads to life, and only a few find it.
(Matthew 7:13-14 (NIV))
What has your life been like? Are you still searching? Perhaps you are simply off course in your walk of faith. There is no better time than this very moment to correct this and turn to Jesus. Tomorrow may simply be too late for we are not promised tomorrow.
It is as easy as ABC.
A is for admit that you are a sinner in need of a savior.
B is for believe in your heart that Jesus Christ died for your sins, was buried, and that God raised Him from the dead.
C is for call upon the name of the Lord Jesus.
Redemption can be yours. Forgiveness can be yours.
Only through the blood of Jesus!
Copyright 1998 – 2023 Dennis J. Smock
Daily Living Ministries, Inc.
https://www.dailylivingministries.org
Support Daily Living Ministries
Subscribe to daily email delivery
Visit us on facebook