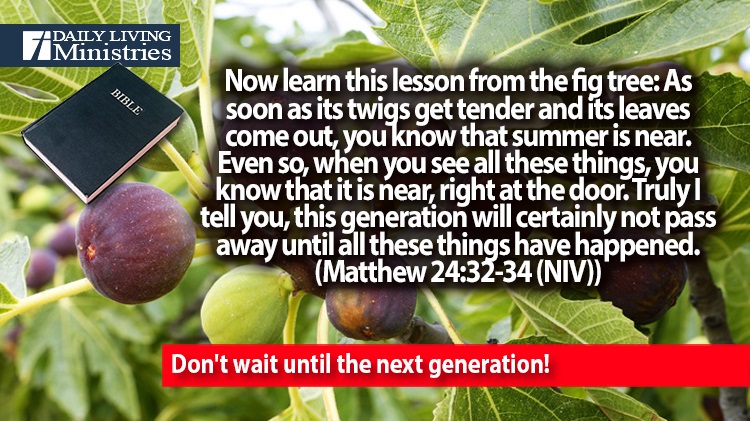 Be Still . . .
Devotionals for Daily Living ©
Now learn this lesson from the fig tree: As soon as its twigs get tender and its leaves come out, you know that summer is near. Even so, when you see all these things, you know that it is near, right at the door. Truly I tell you, this generation will certainly not pass away until all these things have happened.
(Matthew 24:32-34 (NIV))
Have you ever truly studied this parable of the fig tree?
I want to start by making a statement that any time a fig tree is mentioned in the Bible, it represents Israel. If you look at Mark 11, you read about a fig tree that was cursed by Jesus because it was not time for it to bear fruit. At His first coming, Israel rejected Jesus. After His crucifixion, the people of Israel were scattered. This passage in Matthew tells of a time when Israel would be gathered back to their homeland. In 1948, the twigs were tender, for Israel was a small group of people back in the land. Many scholars believe that the leaves came out in 1967 and that the nation has grown stronger ever since that time.
This puts a whole new meaning into the last sentence of the passage from Matthew.
Truly I tell you, this generation will certainly not pass away until all these things have happened.
(Matthew 24:34 (NIV))
We have all heard this passage many times before, but I want you to actually think about this passage in relation to the average life span of a person. I want you to think about this passage in relation to the implications that it contains. With that said, does this mean that people who were alive to see Israel become a nation again will be alive to see the return of Jesus? Think about that! 1948 was seventy-three years ago. 1967 was fifty-four years ago. I honestly believe that we need to look at 1948 as the starting point, but even if it is 1967, we have to seriously face reality. Both of these are rapidly approaching the length of a human life! We also have to take into account that the return of Jesus is at the end of the seven year tribulation. I realize that if God wanted to, He could have a member of this generation live to be five hundred years old, but I do not believe that this is the case.
Time is short!
We don't know when this generation will pass away.
Are you secure in your salvation?
It is a process as simple as A, B, C.
A. Admit that you are a sinner.
B. Believe in your heart that Jesus died for your sins, was buried and that God raised Him from the dead.
C. Call upon the name of the Lord by confessing that Jesus is King of kings and Lord of lords.
Don't wait until the next generation!
Copyright 1998 – 2021 Dennis J. Smock
Daily Living Ministries, Inc.
http://www.dailylivingministries.org
Support Daily Living Ministries
Subscribe to daily email delivery
Visit us on facebook