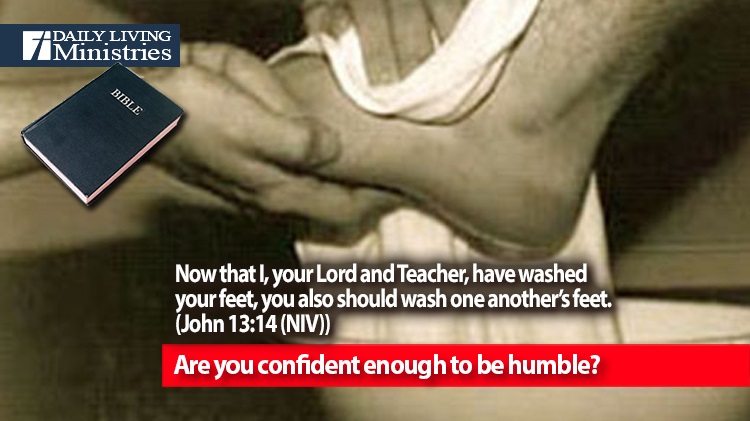 Be Still . . .
Devotionals for Daily Living ©
Now that I, your Lord and Teacher, have washed your feet, you also should wash one another's feet.
(John 13:14 (NIV))
What is the most humbling thing that you have ever done?
Was it a voluntary action?
Imagine having so much confidence in who you are that you think nothing of doing what is considered to be the lowest legal task in society even though your position should dictate something far more fitting to your title.
That is exactly what Jesus did when He chose to wash the disciples feet. It was customary that a non-Jewish servant would be given this task for it was considered to be too low of a task for any Jewish person to perform, yet Jesus chose to do just that. From a worldly point of view, He was a Jew and this task was beneath Him. From a spiritual point of view, He was God with us and yet chose to be a servant to His creation. In other words, He willingly chose to humble Himself with multiple implications through this one act.
Do we truly understand just what Jesus did?
More importantly, do we truly understand what Jesus told us to do when He said that we should wash one another's feet?
If you look at this just on the surface, the implications are not that bad. When you consider the time in history when this was said, you may come away with a different outlook. You may come away with a much better understanding. The common footwear was sandals. The common roadway was nothing more than dirt. This meant that a person's feet were disgustingly dirty. Now you see why the task of washing feet was assigned to non-Jewish servants. If you look at this in context, we are called to help each other even if the things that a person needs help with are disgustingly dirty and looked upon by our society as a forbidden task.
What do you consider to be disgustingly dirty?
Adultery. Theft. Murder. Drug addiction. Alcoholism. Have I left anything out? Are these our society's equivalent of washing feet? Are we willing to humble ourselves and help someone who is in need or are we still caught up in pride and legalism just like the Pharisees were?
Are you confident enough to be humble?
Copyright 1998 – 2022 Dennis J. Smock
Daily Living Ministries, Inc.
http://www.dailylivingministries.org
Support Daily Living Ministries
Subscribe to daily email delivery
Visit us on facebook