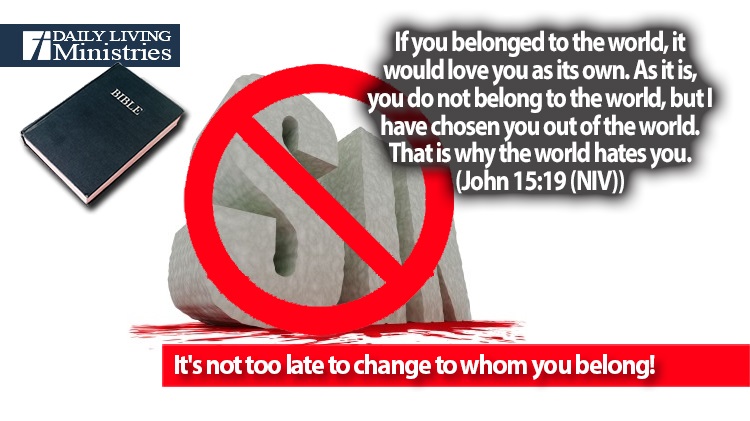 Be Still . . .
Devotionals for Daily Living ©
If you belonged to the world, it would love you as its own. As it is, you do not belong to the world, but I have chosen you out of the world. That is why the world hates you.
(John 15:19 (NIV))
Have you ever wanted fame and fortune?
Have you ever wanted to be in the spotlight and adored by countless numbers of people?
After reading the words that Jesus spoke, aren't you glad that this never happened?
When the world loves you, you are probably pushing the proverbial envelope as to what is "new and trendy." This is simply another way of saying how flagrantly can you sin and lead others to sin? This basically reinforces the simple fact that the world loves sin. Anyone who flaunts it and shows others new ways to sin is going to get their proverbial fifteen minutes of fame. If you are really good at it, you make a career out of leading people down a path that they shouldn't venture down.
These are the people who belong to the world, but you don't have to be in the public eye to belong to the world. You can simply be a follower of someone who is. You can simply be the "cool" person who always has something going on that makes others want to be like them. The world loves those who rush headfirst into the sin that is the latest trend.
That is why the world hates Jesus and those who follow Him!
When the world says that to be loved you have to sin and flaunt it, Jesus tells us that to truly be loved, we simply turn to Him and repent of our sin.
When the world says that to live life to the fullest, you have to grab for all that you can get, Jesus tells us that life to the fullest only comes through Him.
I could go on with examples, but it is clearly obvious that what the world wants and what God wants are polar opposites. They are so far apart that we can never bridge the gap from the sinful world to God on our own strength and on our own righteousness. It is true that if you are loved by the world, and that in turn you love the world, it is still possible to repent. You can turn to Jesus and forsake all that the world has put in your way.
Repent!
It's not too late to change to whom you belong!
Copyright 1998 – 2022 Dennis J. Smock
Daily Living Ministries, Inc.
https://www.dailylivingministries.org
Support Daily Living Ministries
Subscribe to daily email delivery
Visit us on facebook