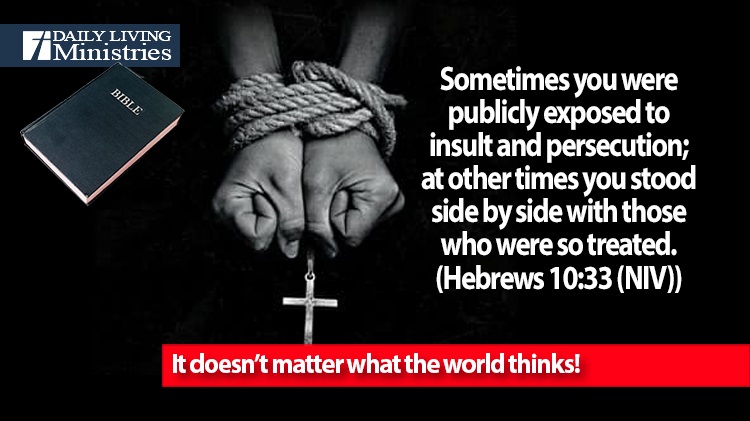 Be Still . . .
Devotionals for Daily Living ©
Sometimes you were publicly exposed to insult and persecution; at other times you stood side by side with those who were so treated.
(Hebrews 10:33 (NIV))
Think about this passage for a moment.
Did you come to any conclusions or did you have any insights that you hadn't had before?
Perhaps what caught my attention is related to the following passage.
"I have told you these things, so that in me you may have peace. In this world you will have trouble. But take heart! I have overcome the world."
(John 16:33 (NIV))
If you truly stop to think about this, the world does not insult and persecute those who belong to it. If we are to face insult and persecution because of our faith, there is only one way that we, as members of the Body of Christ, should respond.
Consider it pure joy, my brothers and sisters, whenever you face trials of many kinds, because you know that the testing of your faith produces perseverance. Let perseverance finish its work so that you may be mature and complete, not lacking anything.
(James 1:2-4 (NIV))
Are you truly prepared for what the world will probably be sending your way?
I realize that there isn't a single person who looks forward to insults and persecution, but we must be prepared for whatever the world may send our way. We must stand firm so that we do not fall away when our faith is tested. We may face things individually, or we may face them together as members of the Body of Christ. No matter what the world may send our way, we must remember that the world is not our savior. With that in mind, there is only one thing left to say.
It doesn't matter what the world thinks!
Copyright 1998 – 2021 Dennis J. Smock
Daily Living Ministries, Inc.
http://www.dailylivingministries.org
Support Daily Living Ministries
Subscribe to daily email delivery
Visit us on facebook