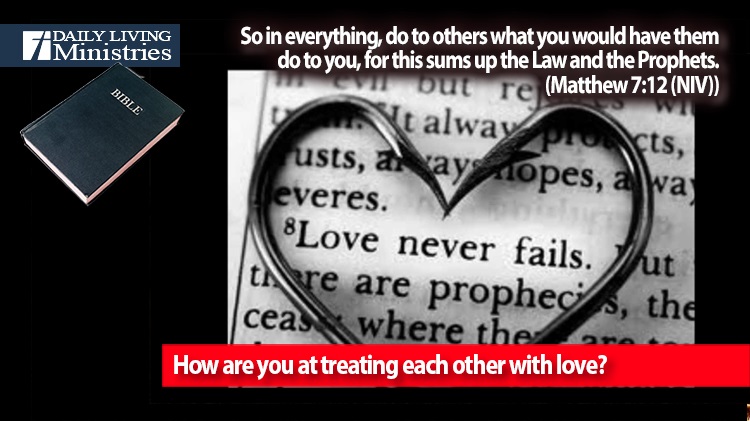 Be Still . . .
Devotionals for Daily Living ©
So in everything, do to others what you would have them do to you, for this sums up the Law and the Prophets.
(Matthew 7:12 (NIV))
Do you like it when others mistreat you?
I realize that this question is one that appears to have an obvious answer, still we often treat others in ways that we would never want to be treated ourselves. I believe that this is rooted in the fall from grace. Humanity was lied to and told that we could be like God, so now we apply the power without the compassion. We apply the authority without the understanding, and we provide the condemnation without the love. Human nature wants to do exactly the opposite of what God calls us to do. We have a tendency to place ourselves above everyone else, and because of this, we mistreat each other because we think that we are better than they are.
Wrong attitude!
We are no better than anyone else.
for all have sinned and fall short of the glory of God,
(Romans 3:23 (NIV))
No matter what you may think of yourself, God sees the real you. He knows all of your sinful past, yet He loves you anyway. When He looks at humanity, He sees a sea of sinful, fallen people who all need a savior. He does not see certain people as better than others. He doesn't treat anyone differently. What He does do is provide an opportunity of redemption to all who will simply profess a faith in Jesus as their personal Lord and Savior. Once this happens, He sees you as a redeemed child, but that redemption is nothing that should make us feel superior to anyone else. All that it means is in the sea of sinful, drowning people, we have gotten on the life boat. We should be reaching out to others offering to help them receive what we have received. We must show them the same compassion, understanding and love that we were shown as we found our salvation.
I want to challenge you to look at your actions during the next twenty-four hours. Pray to have your eyes opened to the instances where you treat others in a way that you would not want to be treated. Pray to be able to show God's love in those situations instead of your shortcomings. I want you to also pray for those who mistreat you, for they may not realize what they do. It is said that it is hard to hate someone when you are praying for them. I think that we can also safely say that it is hard to mistreat someone when you are praying for them.
How are you at treating each other with love?
Copyright 1998 – 2023 Dennis J. Smock
Daily Living Ministries, Inc.
https://www.dailylivingministries.org
Support Daily Living Ministries
Subscribe to daily email delivery
Visit us on facebook