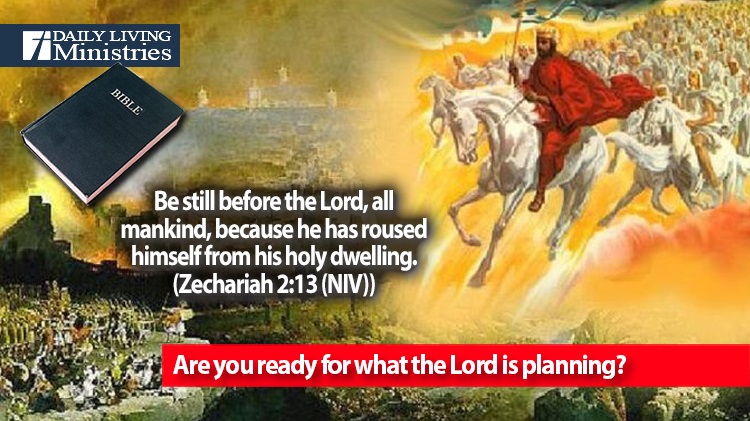 Be Still . . .
Devotionals for Daily Living ©
Be still before the Lord, all mankind, because he has roused himself from his holy dwelling.
(Zechariah 2:13 (NIV))
Does this frighten you or does this bring you joy?
It is all a matter of perspective!
If you delight in the things of this world, then at best, this frightens you. However, if you are delighted by the things of this world, then you have probably denied the very existence of the Lord. This results in the simple conclusion that you are probably complacent. Either way, your encounter with the Lord will be the same. The Lord is rousing himself from His holy dwelling to put a stop to sin once and for all. Just because you don't believe in the laws of gravity does not mean that you can jump off of a tall building with no consequences. The very same thing is true with you denial of the Laws of God. Ignorance of the law does not make you innocent.
for all have sinned and fall short of the glory of God,
(Romans 3:23 (NIV))
For the wages of sin is death, but the gift of God is eternal life in Christ Jesus our Lord.
(Romans 6:23 (NIV))
But, . . .
On the flip side of that perspective is the personal recognition that what these two passage profess is true and that it applies to you!
That is where the "But, God!" actions comes into play.
If you follow the ABCs, then your perspective on the Lord rousing Himself from His holy dwelling is completely different.
A is admit that you are a sinner in need of a Savior.
B is for believe in your heart that Jesus Christ died for your sins, was buried, and that God raised Him from the dead.
C is for call upon the name of the Lord Jesus.
If you follow the ABCs, then you understand. You long for His return. You long for His righteousness to rule. You long to be in His presence. As you see the things that are unfolding in the world, we are to have faith in His Word. We are to be still before the Lord. We are to remember what the Israelites were told by Moses in Exodus and be obedient to these instructions today.
The Lord will fight for you; you need only to be still.
(Exodus 14:14 (NIV))
As the Lord unfolds His plans, we are to simply be still and rejoice. We are to watch in amazement as we truly see just how good that our God is! In all honesty, we are simply sitting on the sidelines. The only thing that we are called to do is invite others to join in on the side of the Lord.
Are you ready for what the Lord is planning?
Copyright 1998 – 2022 Dennis J. Smock
Daily Living Ministries, Inc.
https://www.dailylivingministries.org
Support Daily Living Ministries
Subscribe to daily email delivery
Visit us on facebook