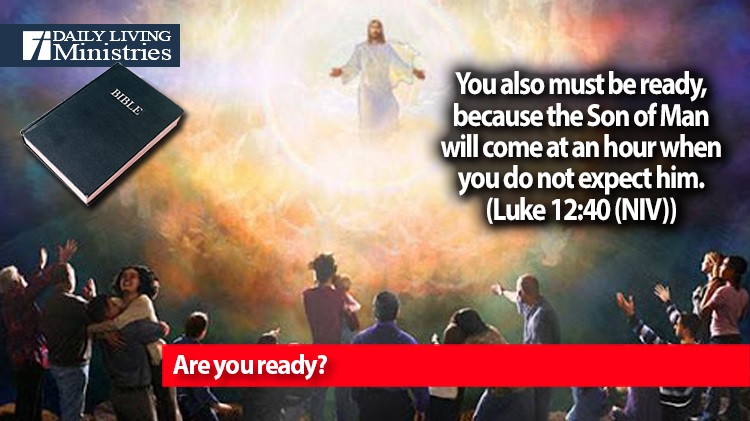 Be Still . . .
Devotionals for Daily Living ©
You also must be ready, because the Son of Man will come at an hour when you do not expect him.
(Luke 12:40 (NIV))
Preparation is essential in just about any undertaking.
It means that you have an understanding of what is needed to succeed at what you desire to do. It means that you have done your best to get ready. It means that you are prepared mentally or physically for some experience or action. It means that you are available and willing. It means that you are anticipating what you have prepared for!
Are you anticipating the coming of the Son of Man?
Are you currently available and willing?
Are you prepared mentally, physically, but most importantly, spiritually for the coming of Jesus?
Are you eager to see Jesus face to face? Do you long to sit at His feet? Do you hunger and thirst for His righteousness? Are you ready to say goodbye to this sinful, fallen world and spend eternity in His presence?
God loves us so much that He has made it easy to get ready!
For God so loved the world that he gave his one and only Son, that whoever believes in him shall not perish but have eternal life.
‭‭(John 3:16 (NIV))
Have you believed in Jesus?
Are you ready?
Copyright 1998 – 2022 Dennis J. Smock
Daily Living Ministries, Inc.
https://www.dailylivingministries.org
Support Daily Living Ministries
Subscribe to daily email delivery
Visit us on facebook