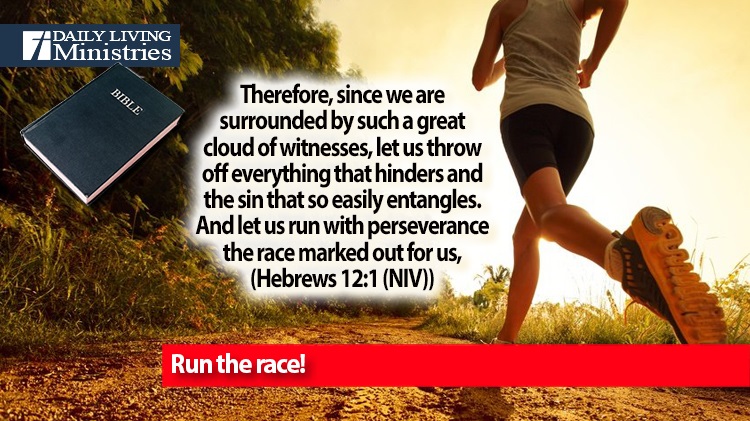 Be Still . . .
Devotionals for Daily Living ©
Therefore, since we are surrounded by such a great cloud of witnesses, let us throw off everything that hinders and the sin that so easily entangles. And let us run with perseverance the race marked out for us,
(Hebrews 12:1 (NIV))
How do you see your walk of faith?
Is it a leisurely stroll through life where you can stop and indulge in whatever you may encounter along the way, and then you end up where you end up without any direction? Is it a random chance of circumstances that lead you to your destination? Do you even have a destination in mind? If you have a destination, how do you plan on arriving there? Do you have a course? Do you have a plan that will bring you closer to that destination each day of your life?
If you have professed a faith in Jesus as your personal Lord and Savior, then your destination should be maturity in Him. Each day you must focus on following Jesus in all that He desires for you and of you. Professing a faith in Jesus does not mean that the rest of your life will be easy. It does mean that He will walk with you and help you to overcome the troubles in this world. Let's face the facts, you can't run a race if you are hindered in any way. The same is also true of our walk of faith with Jesus. It is the worldly troubles and the sin that hinders us in our faith journey. Focus on Jesus and these things that once were so prominent in your field of vision, in your life, will grow strangely dim as Jesus becomes clearer and clearer.
I love how Paul used the race analogy to explain our walk of faith. Running a race requires self-discipline. Running a race requires commitment. Running a race requires daily preparation and training. Running a race requires us to be unhindered so that we can run. Running a race requires us to go the distance. Running a race requires us to keep our eyes on the finish. Running a race requires that we do not become distracted. Running a race requires that we follow the course marked out before us. Running a race requires that we want to finish the course well. Jesus is that course!
It is my prayer that we keep our eyes on Jesus and that we finish well.
I have fought the good fight, I have finished the race, I have kept the faith.
(2 Timothy 4:7 (NIV))
Do you desire to be able to make this claim?
Run the race!
Copyright 1998 – 2022 Dennis J. Smock
Daily Living Ministries, Inc.
http://www.dailylivingministries.org
Support Daily Living Ministries
Subscribe to daily email delivery
Visit us on facebook