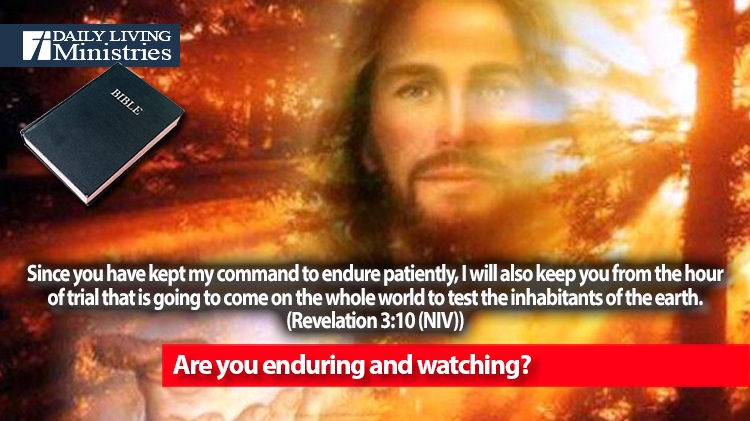 Be Still . . .
Devotionals for Daily Living ©
Since you have kept my command to endure patiently, I will also keep you from the hour of trial that is going to come on the whole world to test the inhabitants of the earth.
(Revelation 3:10 (NIV))
Enduring patiently!
In today's world, those two words seem like an oxymoron. The whole world has endured some very strange things over the last several years. I have lost track of the number of times that I have heard people say that they wish things would return to the way that they used to be, and SOON! For those who wish this to happen, I honestly believe that what we used to know as normal will never return. What we now know is only the beginning, and what is before us is something that we, as believers in Jesus, do not want to see.
I have one very important question for you.
Are you longing to be in the presence of the Lord?
We know that He promised to prepare a place for us and that He will return. We know that those who profess a faith in Jesus as their personal Lord and Savior will be saved from the test that the inhabitants of this earth will face. There is some disagreement on timing, but we know that the Lord will snatch away those who believe in Him so that they do not face the test. That does not simply mean that we go about our lives as if blind to the events in this world, especially when they align with what we have been told in God's Word. We are to pay attention. We are to watch and be aware. Things are transpiring in what many are saying is a convergence of prophetic events all leading to either being in the presence of the Lord or being left on this world without the Holy Spirit to hold back the enemy.
Be always on the watch, and pray that you may be able to escape all that is about to happen, and that you may be able to stand before the Son of Man."
(Luke 21:36 (NIV))
I find it disheartening that most pastors in the denominational churches are not saying anything about world events. They are not teaching on God's plans that appear to be unfolding right before our eyes. They are not telling people to watch for the Lord! At best, many are simply doing verse by verse teachings about how to live in this world. Don't get me wrong. We need to know that, but we also need to know what God has planned. We know what He saw when He looked at the earth's corruption in Genesis.
God saw how corrupt the earth had become, for all the people on earth had corrupted their ways.
(Genesis 6:12 (NIV))
What does He see when He looks at the earth today?
Are people calling good evil and evil good? Are there wars and rumors of wars? Are there drastic weather issues all around the world? Are there higher prices and shortages? Are there people who openly blaspheme God? Is our corruption equal to or greater than in the days of Noah?
With all of these things, and much, much more, what do you think that God sees when He looks at the earth today?
I don't profess to know what will happen next. All that I do know, as someone who professes a faith in Jesus, is that I have an assignment to share the Gospel with those who do not know Jesus. I also know that I have a responsibility to keep watch and recognize the signs. I have a responsibility to alert others to what I see. I also know that I may be wrong, but it is better to watch and warn and things not happen than to watch and not warn and things do happen.
We don't know God's exact timing, but we must be diligent. We must endure and we must watch in anticipation of meeting Jesus!
Are you enduring and watching?
Copyright 1998 – 2022 Dennis J. Smock
Daily Living Ministries, Inc.
https://www.dailylivingministries.org
Support Daily Living Ministries
Subscribe to daily email delivery
Visit us on facebook