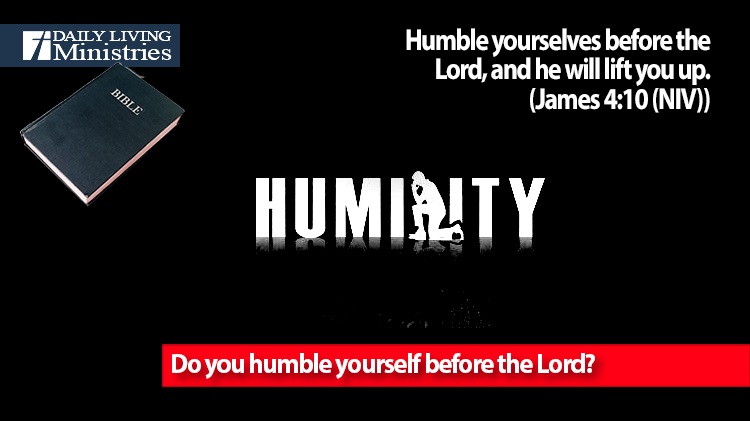 Be Still . . .
Devotionals for Daily Living ©
Humble yourselves before the Lord, and he will lift you up.
(James 4:10 (NIV))
Why do people have such a difficult time being humble?
Why do we insist on trying to elevate ourselves above other people and why do we try to elevate ourselves above God?
I realize that we are all born with a sinful nature, but do we have to act like this all of the time? Why can't we exhibit other characteristics?
But the fruit of the Spirit is love, joy, peace, forbearance, kindness, goodness, faithfulness, gentleness and self-control. Against such things there is no law.
(Galatians 5:22-23 (NIV))
If we profess a faith in Jesus as our personal Lord and Savior, we should walk in humility by the very nature of our profession. Why does the world seem to still impact us when we long to put away the things of this world, the things of this flesh? We know exactly what we are supposed to do.
Those who belong to Christ Jesus have crucified the flesh with its passions and desires. Since we live by the Spirit, let us keep in step with the Spirit. Let us not become conceited, provoking and envying each other.
(Galatians 5:24-26 (NIV))
Even though we profess a faith in Jesus, we still have to repent each and every day, each and every moment that sees us being anything less than humble. If we could strive to live each day following Jesus and walking in the fruit of the Spirit, then we are making great strides into being humble. We are only human. We are a sinful, fallen creation incapable of perfection on our own. We require many course corrections to make sure that we are still on His path. It takes great humility to admit that you are a sinner in need of a Savior, and it takes great humility to admit that you still sin and need help.
Humble yourself by seeking His forgiveness each and every day. Perhaps this is the greatest form of humility.
Do you humble yourself before the Lord?
Copyright 1998 – 2022 Dennis J. Smock
Daily Living Ministries, Inc.
http://www.dailylivingministries.org
Support Daily Living Ministries
Subscribe to daily email delivery
Visit us on facebook