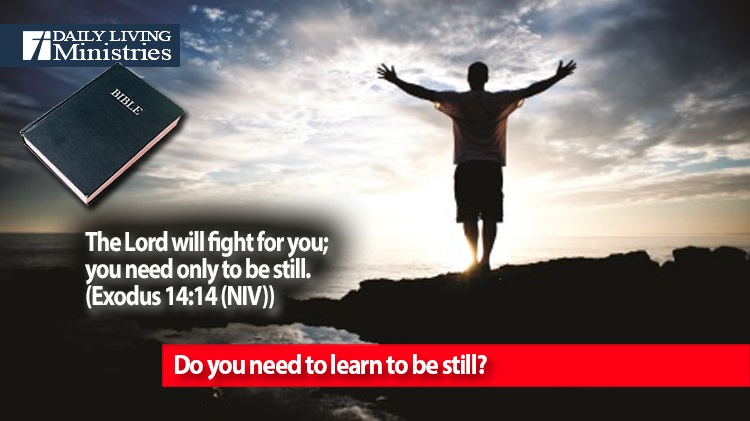 Be Still . . .
Devotionals for Daily Living ©
The Lord will fight for you; you need only to be still.
(Exodus 14:14 (NIV))
This goes against everything that we know as sinful, fallen humanity. It is human nature to take matters into our own hands. When things don't go as we want, we inherently get all puffed up and ready to go to battle to get what we feel we deserve. In essence, it all comes down to ego and pride. To put it simply, we are all too willing to go to battle without waiting for the Lord. We don't stop to think about if what we want is what is wanted for us by the Lord.
We need to learn to be patient.
We need to learn to listen.
We need to learn to recognize that our desires are not always the right choice!
We need to learn to be still and wait for the Lord no matter what may happen in this world. He has His timing and we can't rush it, even though we may try.
Be still before the Lord
     and wait patiently for him;
do not fret when people succeed in their ways,
     when they carry out their wicked schemes.
(Psalm 37:7 (NIV))
Do you have trouble waiting for the Lord? You are not alone. I am constantly reminded to do just that. In fact, for anyone who knows me, or has followed these devotionals for very long, you will know that everything is predicated on the following passage.
Be still, and know that I am God;
(Psalm 46:10a (NIV))
In order to trust that the Lord will fight for you, you must know Him. In order to wait patiently for Him, you must trust Him. In order to be still in His presence, you must desire what only He can offer.
What is it that you desire?
Do you need to learn to be still?
Copyright 1998 – 2022 Dennis J. Smock
Daily Living Ministries, Inc.
https://www.dailylivingministries.org
Support Daily Living Ministries
Subscribe to daily email delivery
Visit us on facebook