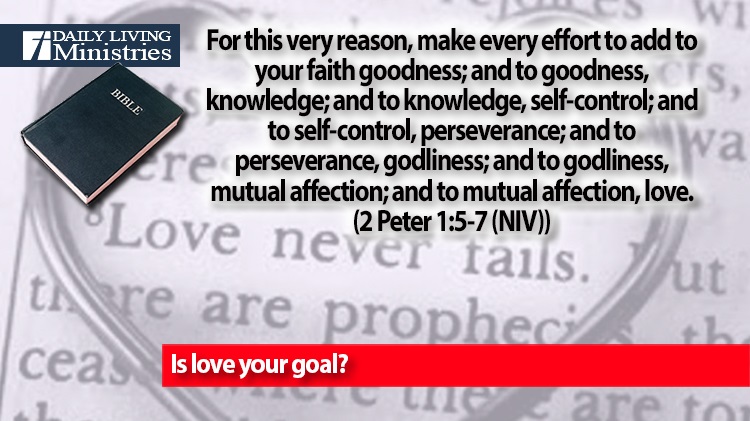 Be Still . . .
Devotionals for Daily Living ©
For this very reason, make every effort to add to your faith goodness; and to goodness, knowledge; and to knowledge, self-control; and to self-control, perseverance; and to perseverance, godliness; and to godliness, mutual affection; and to mutual affection, love.
(2 Peter 1:5-7 (NIV))
As believers, we look at these qualities and desire to possess them, to make them an integral part of our lives, but have you ever thought of them as stepping stones to the ultimate godly characteristic? If you read the passage as it was written, they build one upon the other until you get to the desired end – love!
What do you think of when you hear the word "love?"
Is love the ultimate desire in your life or is your life tainted by the world's definition of love? Do you associate love only with romantic or familial affection? Perhaps you are capable of extending love to those beyond your initial inner circle and can show love to people who are merely acquaintances. Is there more to what God defines as love?
For if you possess these qualities in increasing measure, they will keep you from being ineffective and unproductive in your knowledge of our Lord Jesus Christ.
(2 Peter 1:8 (NIV))
Do you realize that this can be summarized as follows? If you do not show love as God defines love, then you have an ineffective and unproductive partial knowledge of Jesus!
Ouch!
Did that hit home?
I know that it does for me.
We like to think that God would have sent Jesus into this world if we had been the only sinner in need of a Savior, and, to be completely honest with you, I am sure that He would have. However, we are not the only one who needed a Savior.
for all have sinned and fall short of the glory of God,
(Romans 3:23 (NIV))
God's love is available to any who will simple accept it, but we are not called to hold onto it for ourselves. That is completely selfish and shows a total lack of love. We are called to show God's love to others. It is God's desire for us to mature in our faith so that we can be a witness to anyone and everyone whom we meet. That should also be our desire, our goal in our walk of faith.
Is love your goal?
Copyright 1998 – 2022 Dennis J. Smock
Daily Living Ministries, Inc.
http://www.dailylivingministries.org
Support Daily Living Ministries
Subscribe to daily email delivery
Visit us on facebook