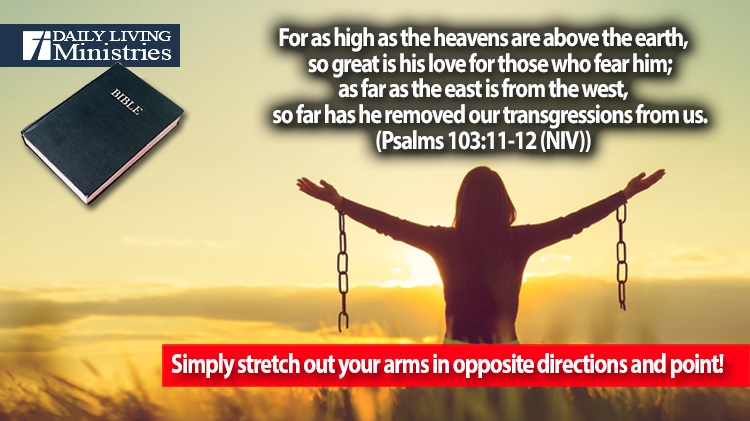 Be Still . . .
Devotionals for Daily Living ©
For as high as the heavens are above the earth,
     so great is his love for those who fear him;
as far as the east is from the west,
     so far has he removed our transgressions from us.
(Psalms 103:11-12 (NIV))
Just how far is the east from the west?
Think about that for a moment. If you had the possibility of traveling in one direction forever and someone else could travel in the opposite direction forever, then you would begin to comprehend just how far the two can be from each other. In theory, no matter how far you go in one direction, you can still go even further. Now, combine the two directions and that concept and you begin to understand how far God has removed our transgressions away from us. Even if you take into consideration that we live on a globe, we still are faced with the unquestionable truth that you can never stop going east and you can never stop going west. It is a journey without end.
A journey without end!
Think back on your life. What is the one thing above all things that you have done that you wish you could undo, that you could forget ever happened? Now, imagine that God has separated you and that transgression, that sin, so far apart and never again to meet. It all came about through God's plan for grace and mercy through His Son, Jesus. God, through your simple profession of faith, has completely removed not only that biggest sin, but all of your sins. It is now our prayer, each of us who have called upon the name of Jesus as our personal Lord and Savior, to never turn back from our journey in the opposite direction from our sin.
The next time that Satan reminds you of your past and the sins that you have committed, remember just how far the east truly is from the west. Don't let your past keep you from the righteousness that God is calling you toward. Simply stretch out your arms in opposite directions and point.
Copyright 1998 – 2021 Dennis J. Smock
Daily Living Ministries, Inc.
http://www.dailylivingministries.org
Support Daily Living Ministries
Subscribe to daily email delivery
Visit us on facebook