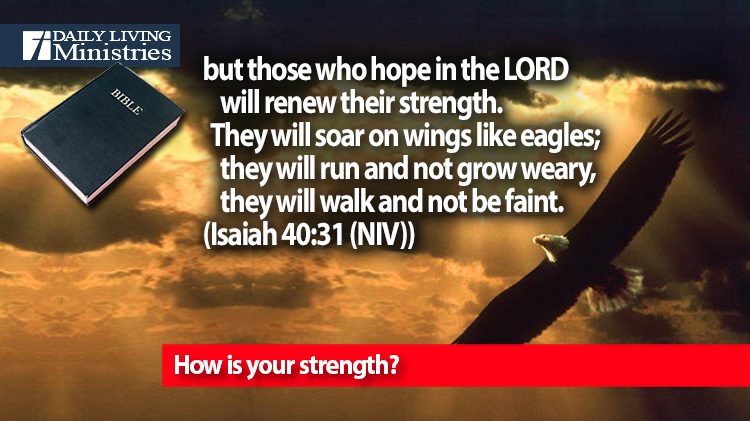 Be Still . . .
Devotionals for Daily Living ©
but those who hope in the LORD
      will renew their strength.
   They will soar on wings like eagles;
      they will run and not grow weary,
      they will walk and not be faint.
(Isaiah 40:31 (NIV))
I don't know about you, but sometimes the weight of the world just seems to come crashing in. I know that we just celebrated the resurrection of Jesus, but I wonder how much of what we do could go away? I wonder how much of our "traditions" make us weary and burdened. I wonder how much of the "traditions" could simply stop so that we can focus on what is truly important. We need to focus on the fact that Jesus was resurrected from the grave!
I am tired! I am weary from and of the things that this world says that we have to do. Sometimes I feel like Elijah when he ran from Jezebel. I don't fear for my life and want to die, but I do want to escape and find rest. I am sure that I am not the only one who feels like this, especially with all that has happened and is happening in the world. Even Jesus had to get away and reestablish His connection with the Father through prayer.
In much the same way that we plug in our cell phones to a power source to recharge so that we can take them back out into the world, we must plug into our power source and recharge. We must renew our strength. We must tap into the source that allows us to run and not grow weary. We must find ourselves hoping in the Lord. We must find ourselves turning to Him when we feel drained and unable to go any further. We must realize that the same power that raised Jesus from the dead is also with us. We must realize that if we place our hope in the Lord then God is for us!
What, then, shall we say in response to these things? If God is for us, who can be against us?
(Romans 8:31 (NIV))
How is your strength?
Copyright 1998 – 2022 Dennis J. Smock
Daily Living Ministries, Inc.
http://www.dailylivingministries.org
Support Daily Living Ministries
Subscribe to daily email delivery
Visit us on facebook