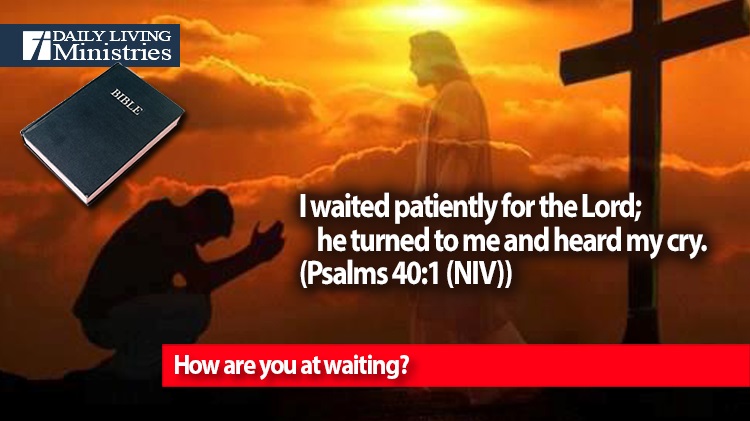 Be Still . . .
Devotionals for Daily Living ©
I waited patiently for the Lord;
     he turned to me and heard my cry.
(Psalms 40:1 (NIV))
I recently saw something that enhanced my understanding of this passage with a little alternate translation for "waited patiently." It hinted that the original would better be translated along the lines of "to eagerly expect." I am not a Hebrew scholar, so I will have to defer to someone who is, but I wholeheartedly agree with the implications from this proposed translation. If you profess a faith in Jesus as your personal Lord and Savior, we have turned to the Lord in eager expectation! We are not simply waiting, but, rather, we have placed our faith in a proactive relationship with our Lord and Savior.
Have you ever prayed for something and passively just sat by and waited?
There is an extremely good probability that you were fully engrossed in eager anticipation of your prayers being answered. You were probably to the level where you doubled down on your prayer because you longed for His answer.
What about your salvation?
Once you came to the awareness that you were a sinner in need of a savior, did you wait patiently or did you profess a faith with eager expectations of an eternity with the Lord?
With all that is going on in the world, are you simply waiting patiently for His return or are you eagerly expecting what you long for?
Faith is not a passive relationship with the Lord. Faith should be born out of an eager expectation of something better than what you are capable of on your own.
for all have sinned and fall short of the glory of God,
(Romans 3:23 (NIV))
Ever since the fall from grace, humanity has longed for a path of redemption. Abraham and his descendants were selected to be the lineage through whom God would bring that redemption. There was waiting and there was also eager expectation. Today, we have the evidence of that eager expectation through what God did for His creation.
For God so loved the world that he gave his one and only Son, that whoever believes in him shall not perish but have eternal life. For God did not send his Son into the world to condemn the world, but to save the world through him. Whoever believes in him is not condemned, but whoever does not believe stands condemned already because they have not believed in the name of God's one and only Son.
(John 3:16-18 (NIV))
Today, we have the benefit of being able to see how many things have been brought to fruition by the Lord. There are still many things that are yet to transpire. Are you simply waiting or are you eagerly expecting what the Lord will do?
How are you at waiting?
Copyright 1998 – 2023 Dennis J. Smock
Daily Living Ministries, Inc.
https://www.dailylivingministries.org
Support Daily Living Ministries
Subscribe to daily email delivery
Visit us on facebook