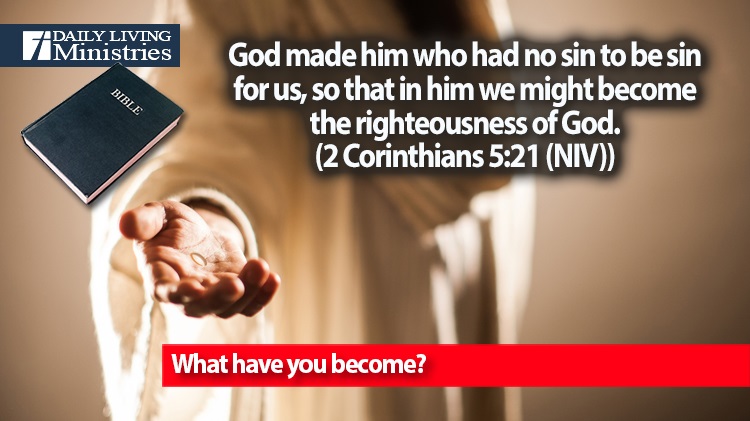 Be Still . . .
Devotionals for Daily Living ©
God made him who had no sin to be sin for us, so that in him we might become the righteousness of God.
(2 Corinthians 5:21 (NIV))
We all had dreams of what we wanted to be when we grew up. If I took a survey, I would probably get such answers as professional athlete, musician or actor, but how many people make it a priority to become the righteousness of God? How many people have the spiritual maturity to say that they want to become like Jesus in all aspects of their lives?
Even though none of us probably thought of becoming the righteousness of God, Jesus always planned on taking on our sin!
Think about that!
All of the sin of every single person who ever lived and ever will live willingly accepted so that we can be righteous!
Can you imagine the weight and burden of all of that sin and the pain and anguish that Jesus endured in order to trade our sin for His righteousness? He willingly made the trade so that we could become redeemed children of God. All that we have to do to become righteous and redeemed children of God is to accept that gift. It's as easy as ABC.
A is for admit that you are a sinner in need of a savior.
B is for believe in your heart that Jesus Christ died for your sins, was buried, and that God raised Him from the dead.
C is for call upon the name of the Lord Jesus.
What have you become?
Copyright 1998 – 2021 Dennis J. Smock
Daily Living Ministries, Inc.
http://www.dailylivingministries.org
Support Daily Living Ministries
Subscribe to daily email delivery
Visit us on facebook