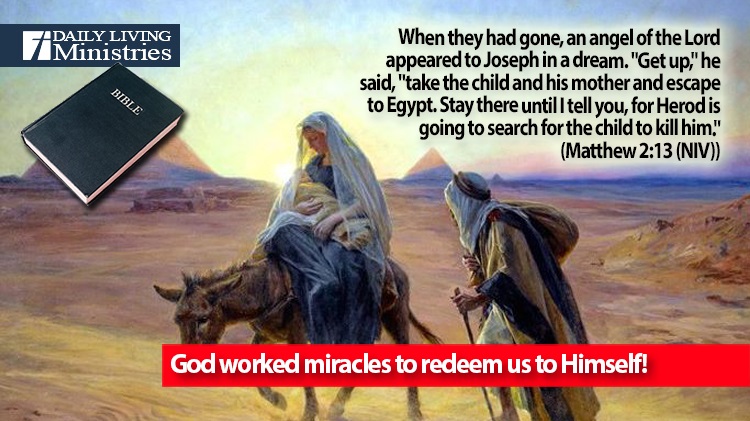 Be Still . . .
Devotionals for Daily Living ©
When they had gone, an angel of the Lord appeared to Joseph in a dream. "Get up," he said, "take the child and his mother and escape to Egypt. Stay there until I tell you, for Herod is going to search for the child to kill him."
(Matthew 2:13 (NIV))
Read this passage again and tell me that you don't think the intrigue, the mystery, the suspense and the action are far better than any movie script that could ever be written!
Society flocks to movies that have far less viable story lines. Too many people will consistently follow these movies while saying that the Bible isn't true. In one breath they claim that the events told of in the Bible couldn't be true and in the very next breath they speak of fictional movie characters and their actions as if they were real. It is often said that the Bible is the greatest story ever told. Think about that for a moment. We have the ultimate good versus the ultimate evil. We have conflict. We have rebellion. We have the greatest falling away that has ever happened, and we have redemption. We also have the promise of the final victory over evil.
And, it's all true!
What is written in Matthew tells us of the miracles that God performed when He came to this world to become our Savior. Humanity fell from grace and God came to save us.
For God so loved the world that he gave his one and only Son, that whoever believes in him shall not perish but have eternal life. For God did not send his Son into the world to condemn the world, but to save the world through him. Whoever believes in him is not condemned, but whoever does not believe stands condemned already because they have not believed in the name of God's one and only Son.
(John 3:16-18 (NIV))
God worked miracles to redeem us to Himself!
Copyright 1998 – 2021 Dennis J. Smock
Daily Living Ministries, Inc.
http://www.dailylivingministries.org
Support Daily Living Ministries
Subscribe to daily email delivery
Visit us on facebook