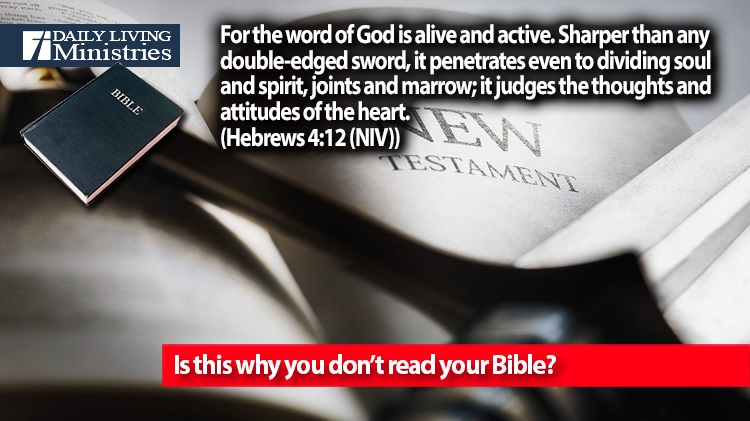 Be Still . . .
Devotionals for Daily Living ©
For the word of God is alive and active. Sharper than any double-edged sword, it penetrates even to dividing soul and spirit, joints and marrow; it judges the thoughts and attitudes of the heart.
(Hebrews 4:12 (NIV))
Have you ever stopped to think about why people don't read the Bible on a regular basis?
This passage gives us so much insight. For some people, it tells us why they dive into it and study it regularly. They are not afraid of what they will discover about themselves as they discover more and more about the Lord. For others, it tells us why they refuse to read God's Word. They are afraid of what they will find out about the sin that they don't want to change in their lives. Basically, it comes down to two very distinct groups. Either you hate the things of this world and you want to seek spiritual maturity and His truth, or you love the things of this world and you are afraid of spiritual maturity and want the lies.
Which end of the spectrum do you find yourself on?
Perhaps you are somewhere in the middle. You want to grow closer to the Lord, but you don't want to give up your sins, so you pick and choose what you read and what you apply to your life. Is this truly growing closer to the Lord? Is this allowing the word of God to divide soul and spirit in such a way that it leads you to repentance? Is this allowing you to accept the judgment of your thoughts and attitudes of the heart in such a way that you willingly lay down your sins at the foot of the cross?
I, like many of you, have read this passage many, many times. I have always thought about it from the perspective of those who do seek the Lord and are willing to learn from His Word. I had never given it any thought from the perspective of someone who is comfortable in their sin until now. Now I understand why some people are reluctant to spend time in His Word. Now I understand why some people will not even open a Bible or have anything to do with God's Word. Each of us must be willing to allow the penetrating and dividing judgment of our lives to work God's Will within us so that we grow closer to Him, so that we may mature into what Jesus has saved us to be.
If you are not willing to allow this, if you are not seeking this, then reading God's Word is folly.
Are you open to allow God's Word to work in your life?
Is this why you don't read your Bible?
Copyright 1998 – 2023 Dennis J. Smock
Daily Living Ministries, Inc.
https://www.dailylivingministries.org
Support Daily Living Ministries
Subscribe to daily email delivery
Visit us on facebook