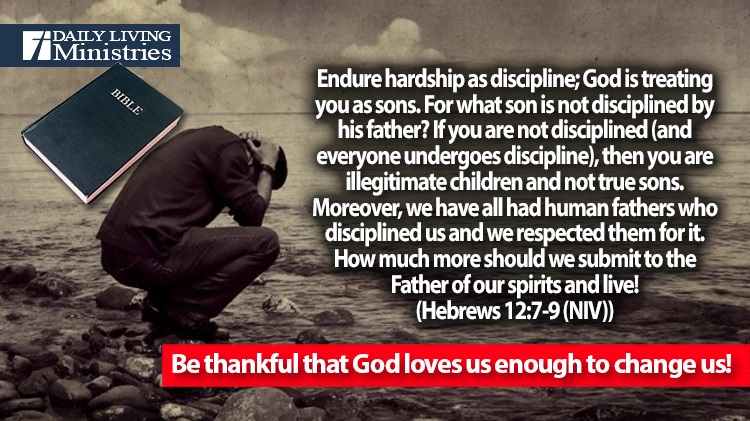 Be Still . . .
Devotionals for Daily Living ©
Endure hardship as discipline; God is treating you as sons. For what son is not disciplined by his father? If you are not disciplined (and everyone undergoes discipline), then you are illegitimate children and not true sons. Moreover, we have all had human fathers who disciplined us and we respected them for it. How much more should we submit to the Father of our spirits and live!
(Hebrews 12:7-9 (NIV))
It is so easy to get angry with God when things don't go the way that you want them to. We rationalize it and say that He can make things happen any way that He wants them to, so why is He making things bad? We fail to see what may be right in front of us.
Do you remember when you were a child and you did something that merited discipline? I am sure that each of us can think of at least one such event. Did you wonder why you were being disciplined or did you know what you did that was wrong? I hate to admit this, but it is human nature to know that we have done something wrong. If we don't get disciplined, we get bolder and try something bigger. If we don't get disciplined then, it gets bigger.
Think about your relationship with your parents after discipline. Did they hate you? Did they reject you? Did they kick you out of their house? Chances are that they embraced you and asked you to think about your actions and not to do it again.
Why do we think that God is going to be different?
"Which of you, if his son asks for bread, will give him a stone? Or if he asks for a fish, will give him a snake? If you, then, though you are evil, know how to give good gifts to your children, how much more will your Father in heaven give good gifts to those who ask him!
(Matthew 7:9-11 (NIV))
We blame God for our shortcomings!
He will be there to teach us where we have gone wrong. He will be there to love us and to guide us. He will even be there to forgive us of our anger. Don't blame God for the consequences of your actions. Accept the discipline and embrace His mercy.
Be thankful that God loves us enough to change us!
Copyright 1998 – 2021 Dennis J. Smock
Daily Living Ministries, Inc.
http://www.dailylivingministries.org
Support Daily Living Ministries
Subscribe to daily email delivery
Visit us on facebook