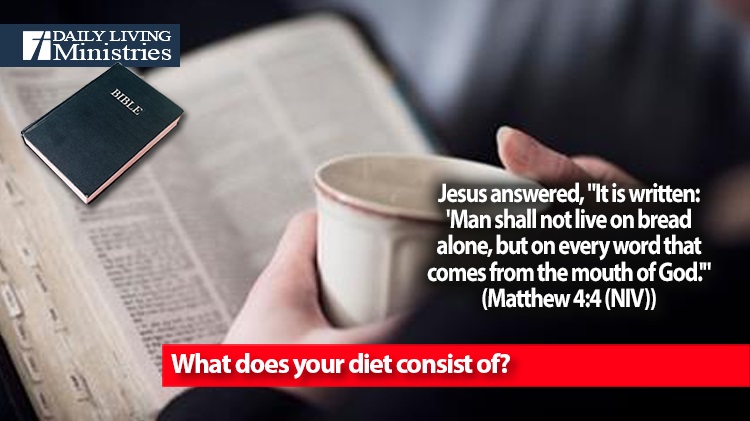 Be Still . . .
Devotionals for Daily Living ©
Jesus answered, "It is written: 'Man shall not live on bread alone, but on every word that comes from the mouth of God.'"
(Matthew 4:4 (NIV))
Besides being necessary to live, eating has become something that has made our society what it is today. It has sparked the creation of cookbooks, diets, cooking utensils, spices, and mood enhancers to create just the special occasion. We have television shows focused on food. We spend so much time thinking about food that we have become obsessed. We have taken that obsession to the smallest detail, and even to the point where we want to flavor enhance water. We have restaurants where you can sit down for long periods of time and slowly enjoy the cuisine. We have restaurants where you are in and out in fifteen minutes or less. We even have the ability to drive through some restaurants and pick up food to go.
We spend so much money, time and effort on the food that feeds us physically, yet we barely spend any time on what feeds us spiritually. Even though most people who profess a faith in Jesus own a Bible, there are many people who never open its pages to feed their spirit. They never venture into the very heart of God. They never feed upon the sweet morsels of truth that the Lord gives us.
Taste and see that the Lord is good;
     blessed is the one who takes refuge in him.
(Psalm 34:8 (NIV))
Have you truly tasted of the goodness of the Lord? Have you opened the cover and turned the pages to see His grace and mercy being offered time and time again to a people who ebb and flow with each passing generation? I need to say this. If you don't spend time in God's Word and feed upon the sweet spiritual nourishment, it is like someone who goes to a restaurant and only looks at the menu. You only get a glimpse of what is offered. You miss out on the very thing that you claim to want.
It is said that tasting and eating are the most personal of the senses. All other senses allow you to experience what is around you. Eating makes that experience an integral part of you. You are putting something external and foreign into your body. The same can be said of what you feed on spiritually. You are feeding a hunger that can only be satisfied by the Lord. Sadly, too many people try to feed this spiritual hunger with anything and everything that they can think of while completely ignoring the true source that satisfies.
What does your diet consist of?
Copyright 1998 – 2021 Dennis J. Smock
Daily Living Ministries, Inc.
http://www.dailylivingministries.org
Support Daily Living Ministries
Subscribe to daily email delivery
Visit us on facebook